---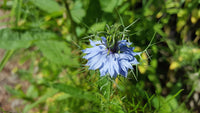 LOVE IN A MIST Seeds
Nigella earns its common name of Love-in-a-Mist with a tangle of ferny, fennel like foliage that form a mist around the flowers.
Germination test date and results will be on packet.
Easily grown in average, medium moisture, well-drained soils in full sun. Sow seed in the garden as soon as the ground can be worked. In cool summer climates, additional sowings can be done every 3-4 weeks until mid summer. Seed may also be started indoors about 6-8 weeks prior to last spring frost date, but plants dislike transplanting and results can be disappointing. Plants like consistent moisture. Deadheading spent flowers will extend bloom period, but will also prevent development of the attractive post-bloom seed pods. Plants will self-seed in the garden.
Noteworthy Characteristics
Love-in-a-mist is a popular cool weather annual that features solitary blue flowers (to 1 1/2" wide) atop stems clad with finely-cut, thread-like leaves. Each solitary flower appears to sit on a bed of lacy (and misty) foliage, hence the common name. Plants typically grow to 1.5-2' tall. In St. Louis, plants bloom in late spring, but significantly decline by mid summer as high temperatures become the norm. Flowers give way to unusual, egg-shaped, horned seed capsules (to 1" diameter) that are covered with bristles. Stems with dried seed capsules make excellent additions to dried flower arrangements.
Terms and conditions, READ THIS PLEASE: Orders over $14 from this ad will be shipped with tracking, Otherwise: Seeds will be shipped economy/standard or first class 2-10 day shipping (NO TRACKING and no planting instructions to keep seed costs to the buyer low), in a ziplock baggie. Our goal is to save you money on quality seeds. We are responsible sellers, and we make sure our buyers are well taken care of. Shipped within 2 business days after payment. We are a seller that caters to experienced gardeners. (germination and plant care information is readily available online, but if you can't find germinating and care instructions, please feel free to message us). Most of our listings include germination instructions, so we do not ship growing instructions. Multiple orders of a single item will be combined into 1 ziplock. We are not responsible for buyer germination success, seeds have been tested. Seed count is approximate, and packaged by weight. Seeds vary in size, weight is exact, and based upon empirical count, quantity is estimated. Liability of seller is limited to the cost of the item(s).
Zellajake Farm and Garden: "Seeds for all your planting needs" since 2013