---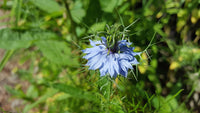 LOVE IN A MIST 200 Seeds BUY 2 ORDERS get 600 seeds total from this listing. Purchase 2 orders from this listing, and we will ship 3 orders total from this listing, multiple orders from this listing will be combined into one packet.
Germination test date and results will be on packet.
Nigella earns its common name of Love-in-a-Mist with a tangle of ferny, fennel like foliage that form a mist around the flowers. Nigella flowers start off as interesting puffs, open into rich toned, straw-flower like blossoms and change into equally attractive seed pods.
Common Name: Nigella, Love-in-a-Mist, Devil in the Bush, Persian Jewels
USDA Hardiness Zone:
Annual. Self-sows freely, but not aggressively.
Exposure:
Full Sun to Partial Shade
Mature Size:
H: 15" (30-40 cm) x W: 3-6" (7-15 cm)
Bloom Period:
Late Spring through Fall.
Nigella is a wonderful cottage garden plant and a great filler. The airy foliage makes a nice complement to broader leaved plants. The flowers keep well as cut flowers. The seed pods can be dried and used in arrangements. To dry the pods, cut while the pods are still green and somewhat fresh. Tie the stems into a bundle and hand upside down to dry. You can cut the seed pods in half to display the interesting seed chamber structure.
Terms and conditions, READ THIS PLEASE: Orders over $14 from this ad will be shipped with tracking, Otherwise: Seeds will be shipped economy/standard or first class 2-10 day shipping (NO TRACKING and no planting instructions to keep seed costs to the buyer low), in a ziplock baggie. Our goal is to save you money on quality seeds. We are responsible sellers, and we make sure our buyers are well taken care of. Shipped within 2 business days after payment. We are a seller that caters to experienced gardeners. (germination and plant care information is readily available online, but if you can't find germinating and care instructions, please feel free to message us). Most of our listings include germination instructions, so we do not ship growing instructions. Multiple orders of a single item will be combined into 1 ziplock. We are not responsible for buyer germination success, seeds have been tested. Seed count is approximate, and packaged by weight. Seeds vary in size, weight is exact, and based upon empirical count, quantity is estimated. Liability of seller is limited to the cost of the item(s).
Zellajake Farm and Garden: "Seeds for all your planting needs" since 2013