---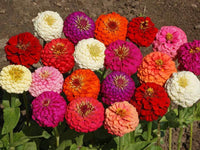 A brilliant mix of pompon zinnias in a wide range of cheery colors.
Always Free Shipping!
Germination test date and results will be on packet.
A complete color range of small, brightly-colored 1½-2" pompom type blooms with long stems. Flower colors are crimson, rose, pink, yellow, lavender, and white. Bushy, branching 18-24 inch high plants with small double blossoms 1-1/2 to 2 inches across. Quickly blooms in 7 weeks from seed. Blooms from early summer until frost. Ideal for cuttings, borders, or mass plantings in sunny gardens. Pompon-like flowers are especially fine for cutting. Sun and heat tolerant. Grows well in the deep south, where these (in zone 9B) can be planted from March until September.
Days To Germination: 5-10
Planting Depth: 1/4 inch
Spacing, Plant: 10-12 inches
Light: Full Sun
SOWING: Sow outdoors after last frost or start seeds indoors for earlier blooms. Cover seeds with 1/4 inch fine soil. Keep soil moist, but not sopping wet, during germination.
THINNING, TRANSPLANTING AND SPACING: When plants are 2 to 3 inches in height thin or transplant 10 to 12 inches apart. Transplant indoor started seedlings outdoors after all danger of frost has passed and weather has warmed considerably.
SUGGESTIONS: Zinnias thrive in hot summer weather. Plant in a sunny area with well drained rich, fertile soil. Water regularly, keeping foliage dry as possible. Water deeply by soaking soil and avoid spraying foliage. Pinch plants when young for denser foliage. Help ensure continual blooming by harvesting cut flowers and removing spent flowers.
Terms and conditions, READ THIS PLEASE: Orders over $14 from this ad will be shipped with tracking, Otherwise: Seeds will be shipped economy/standard or first class 2-10 day shipping (NO TRACKING and no planting instructions to keep seed costs to the buyer low), in a ziplock baggie. Our goal is to save you money on quality seeds. We are responsible sellers, and we make sure our buyers are well taken care of. Shipped within 2 business days after payment. We are a seller that caters to experienced gardeners. (germination and plant care information is readily available online, but if you can't find germinating and care instructions, please feel free to message us). Most of our listings include germination instructions, so we do not ship growing instructions. Multiple orders of a single item will be combined into 1 ziplock. We are not responsible for buyer germination success, seeds have been tested. Seed count is approximate, and packaged by weight. Seeds vary in size, weight is exact, and based upon empirical count, quantity is estimated. Liability of seller is limited to the cost of the item(s).
Zellajake Farm and Garden: "Seeds for all your planting needs" since 2013