---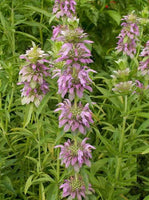 Always Free Shipping!!
Item specifics
Seller Notes: Germination test date and results will be on packet.
Sunlight: sun-part shade
Country/Region of Manufacture: United States
Lemon Mint Seeds, Lemon Beebalm, Horse Mint, Wild Bergamot. Bees and butterfly attractor!
Monarda citriodora
Lemon mint, or Monarda citriodora, is an annual plant that is native to both the midwestern and southern areas of the United States. It is also referred to as purple horsemint or lemon bee balm, and, not surprisingly, it belongs to the mint family. Its fragrant flowers are purple, and tend to bloom during the spring and summer. Parts of this plant can be placed into herbal teas and added to salads. The leaves are known for having a sweet smell that is reminiscent of citrus.
This plant tends to grow anywhere from one foot (0.30 m) to three feet (0.91 m) tall, and should be spaced out about two feet (0.61 m) from each other when planted next to other lemon mint plants. It requires either partial or full sunlight, and though it may tolerate dry conditions temporarily, it does best in soil that constantly stays moist. The soil should also be either neutral, or only slightly acidic or alkaline. Lemon mint tends to do best in states that get plenty of sun and that have a lot of clay in the soil. It may be seen most often growing in prairies and along the side of the road.
Terms and conditions, READ THIS PLEASE: Orders over $14 from this ad will be shipped with tracking, Otherwise: Seeds will be shipped economy/standard or first class 2-10 day shipping (NO TRACKING and no planting instructions to keep seed costs to the buyer low), in a ziplock baggie. Our goal is to save you money on quality seeds. We are responsible sellers, and we make sure our buyers are well taken care of. Shipped within 2 business days after payment. We are a seller that caters to experienced gardeners. (germination and plant care information is readily available online, but if you can't find germinating and care instructions, please feel free to message us). Most of our listings include germination instructions, so we do not ship growing instructions. Multiple orders of a single item will be combined into 1 ziplock. We are not responsible for buyer germination success, seeds have been tested. Seed count is approximate, and packaged by weight. Seeds vary in size, weight is exact, and based upon empirical count, quantity is estimated. Liability of seller is limited to the cost of the item(s).
Zellajake Farm and Garden: "Seeds for all your planting needs" since 2013