---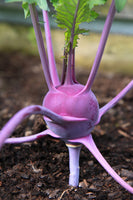 Buy 2 Orders Of Kohlrabi Seeds, Get 1 Order of Kohlrabi Seeds Free
Simply buy two orders and we will ship 3 orders in one packet.
Germination test date and results will be on packet.
There are several purple kohlrabi varieties growing in the marketplace, including Azur Star, Early Purple Vienna, Dyna, and Kolibri. Distingushing purple from green kohlrabi in appearance is only skin deep, as both have kohlrabi's trademark ivory white flesh. Although kohlrabi gives the impression that it is a root vegetable, being a member of the Brassica oleracee (crucifer) family, its edible bulbous section, stems and leaves grow above ground.
The swollen bulb of the purple kohlrabi plant is the part of this vegetable that is considered the most virtuous element of the plant. It is roughly rounded and somewhat heart shaped, its skin wrapping around itself in a circular motion with several thick stems that branch out into its edible leaves. The bulb is crisp, dense, succulent and sweet, similar in flavor to a turnip, with slight cabbage nuances. The leaves and stems are both succulent and tender. Young, small bulbs that are three inches or smaller in diameter are the most ideal crop as they are the most delicate in flavor.
Purple kohlrabi's color is contained in the skin only, once peeled it reveals the same ivory flesh as it's more common green counterpart. Kohlrabi responds wonderfully to nearly all cooking methods. It can be shredded raw in slaws and salads, roasted or braised then pureed into soups, pickled, baked, or stir fried. Both the bulb and the greens make a delicious curry. Diced it makes a hearty addition to savory pies and casseroles.
Referencing its origins, kohlrabi is German, with no translation, literally kohl (cabbage) and (rabi) turnip. Although it has definitive Eastern European culinary origins and has a long culinary history in Asia, it has never been a largely purposeful vegetable in America outside of immigrant communities. It is a fast growing (early maturing) vegetable which is best grown as a cool season crop for harvest in the spring and fall. It cannot be considered a winter vegetable though as it will not survive a frost. It has very little discrimination, though, to where it is grown, making it a common and ideal garden vegetable.
Terms and conditions, READ THIS PLEASE: Orders over $14 from this ad will be shipped with tracking, Otherwise: Seeds will be shipped economy/standard or first class 2-10 day shipping (NO TRACKING and no planting instructions to keep seed costs to the buyer low), in a ziplock baggie. Our goal is to save you money on quality seeds. We are responsible sellers, and we make sure our buyers are well taken care of. Shipped within 2 business days after payment. We are a seller that caters to experienced gardeners. (germination and plant care information is readily available online, but if you can't find germinating and care instructions, please feel free to message us). Most of our listings include germination instructions, so we do not ship growing instructions. Multiple orders of a single item will be combined into 1 ziplock. We are not responsible for buyer germination success, seeds have been tested. Seed count is approximate, and packaged by weight. Seeds vary in size, weight is exact, and based upon empirical count, quantity is estimated. Liability of seller is limited to the cost of the item(s).
Zellajake Farm and Garden: "Seeds for all your planting needs" since 2013