---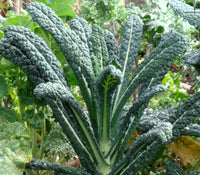 Always Free Shipping!!
Item specifics
Seller Notes: Germination test date and results will be on packet.
Sunlight: Full Sun USDA Hardiness Zone (°F): 3-10
Climate: Cold, Sub-tropical, Temperate
Watering: Heavy
Soil Type: Clay, Peat, Sand, Silt
Country/Region of Manufacture: United States
Lacinato kale growing leaf plant variety of Kale also known as Tuscan kale, Dinosaur kale or Tuscan cabbage, Lacinato Kale grow as biennial or perennial evergreen plant also used as ornamental plant, grow in temperate, mediterranean or subtropical climate.
Leaves with curly edges the leaves with bumps and remained dinosaur skin, the color of the leaves: green blue, also possible to eat in the summer.
Flower color yellow, the small flowers grow on inflorescence.
Germination: Plant seeds 1/4" deep. Kale seedlings like moist drained soil
Keep well watered during the germination process. Lacinato Kale germination time is 7-20 days. Plant spacing once established, 16"
Zellajake Farm and Garden: "Seeds for all your planting needs" since 2013