---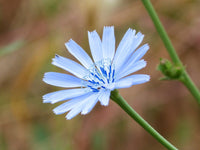 Italian Dandelion/ Chicory
Forage chicory (Cichorium intybus L) is a perennial plant that is suited to well or moderately drained soils with medium to high fertility levels and a pH of 5.5 or greater. Chicory produces leafy growth which is higher in nutritive and mineral content (if managed properly) than alfalfa or cool- season grasses. It has a relatively deep taproot which provides tolerance to drought conditions. Chicory provides both spring and summer forage with average growth rates from April through October of 50 lb per acre per day. During peak growth periods chicory produced 73 lb per acre per day. While chicory is a relatively new forage crop in the United States it has been used in other countries for over 300 years. Although it originated in Central Europe, much of the breeding for improved forage characteristics has been completed in New Zealand.
Germination test date and results will be on packet.
Forage chicory is a low growing rosette plant with broad leaves in the winter, very much like dandelion. With warm temperatures in the spring, it rapidly produces large numbers of leaves from the crown. In late spring, after the establishment year, a few flower stems begin to develop from the crown and will reach heights of 6 ft if ungrazed. The thick tap root of chicory can be exposed and damaged by overgrazing, excessive hoof traffic, and frost heaving.
Great forage food for goats, sheep, tortoises, deer, cattle and more!
From the Tortoise Table:
Common name : Chicory (Wild Chicory)
Latin name : Cichorium intybus
Family name : Asteraceae/Compositae
Wild Chicory is an attractive plant, and it is fine to feed to tortoises. Do not feed the roots, as they are too high in starch and sugars, but leaves and flowers have a good level of calcium as well as a low protein and phosphorous content, which makes them useful in the tortoise diet.
Terms and conditions, READ THIS PLEASE: Orders over $14 from this ad will be shipped with tracking, Otherwise: Seeds will be shipped economy/standard or first class 2-10 day shipping (NO TRACKING and no planting instructions to keep seed costs to the buyer low), in a ziplock baggie. Our goal is to save you money on quality seeds. We are responsible sellers, and we make sure our buyers are well taken care of. Shipped within 2 business days after payment. We are a seller that caters to experienced gardeners. (germination and plant care information is readily available online, but if you can't find germinating and care instructions, please feel free to message us). Most of our listings include germination instructions, so we do not ship growing instructions. Multiple orders of a single item will be combined into 1 ziplock. We are not responsible for buyer germination success, seeds have been tested. Seed count is approximate, and packaged by weight. Seeds vary in size, weight is exact, and based upon empirical count, quantity is estimated. Liability of seller is limited to the cost of the item(s).
Zellajake Farm and Garden: "Seeds for all your planting needs" since 2013