---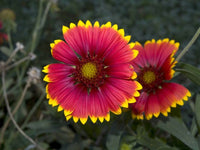 Indian Blanket Seeds
Gaillardia pulchella
Please place all desired items in cart before purchasing. Thanks for shopping with us! J
Also known firewheel, Indian blanketflower, or sundance, is a North American species of short-lived perennial or annual flowering plants in the sunflower family. It is native to northern Mexico (Chihuahua, Coahuila, Nuevo León, Sonora, Tamaulipas) and the southern and central United States from Arizona east to Florida and the Carolinas and north as far as Nebraska. It is also naturalized in scattered locations in other parts of the United States as well as in Québec, Ontario, China, South Africa, and parts of South and Central America. This is an easy to grow wildflower that will grow nearly anywhere there is poor soil that drains well. This plant loves Florida!
Water Use: Medium
Light Requirement: Sun , Part Shade
Soil Moisture: Dry
Planting depth: 1/4 inch
Soil pH: Circumneutral (pH 6.8-7.2)
CaCO3 Tolerance: High
Soil Description: Sandy or calcareous soils, often disturbed places, mostly in grasslands or open places.
Conditions Comments: Indian blanket is a major wildflower of the prairies and meadows. It reseeds readily and is easy to grow; good drainage is the only requirement. Rich soils will produce large, floppy plants with few flowers. Indian blanket is very easy to grow and is commonly used in roadside & meadow plantings. This species is a short-lived perennial in warm, coastal areas. The bloom period can be prolonged by deadheading and supplemental summer watering.