---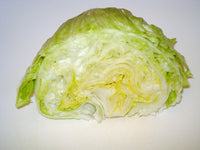 Always Free Shipping!!
Item specifics
Seller Notes: Germination test date and results will be on packet.
Sunlight: Full
Sun Country/Region of Manufacture: United States
Soil Type: Clay, Loam, Peat, Sand, Silt
Climate: Cold, Sub-tropical, Temperate
USDA Hardiness Zone (°F): 3-9b
Iceberg Head Lettuce, the Salad King!
No doubt about it. Iceberg lettuce is the king. Iceberg is a head lettuce, the one that's by far the most popular in the kitchen, and in stores. Iceberg lettuce has a tightly formed head of crisp, sweetly blanched leaves. Leaves on the outside are green, giving way to blanched pale yellow to whitish center leaves The sweetest leaves are in the center. Growing to about a foot in diameter, iceberg lettuce is a staple in the kitchen for salads, on sandwiches, shredded in snacks, as a garnish, and an essential ingredient in countless recipes.
Iceberg lettuce is a cool weather crop that requires a long growing season. In many areas, it begins to mature just as warm weather hits. The result can be splitting bolting, or rotting of heads. We recommend an early, indoor start in the spring.
Days to Maturity:
This cool weather crop needs 80-90 days to reach maturity.
How to Grow Iceberg Lettuce:
Iceberg lettuce seeds can be sowed directly into the garden, or started indoors. We recommend an indoor start, to allow time for the lettuce to mature, before hot weather sets in. Sow a few lettuce seeds in each cell of a seed tray. Cover seeds very lightly with a fine starter soil. Keep soil in the seed tray moist. In about 5-10 days, the seedlings will sprout. Thin seedlings to one plant per cell. You can use a small scissors, to thin plants. Simply snip seedlings off at ground level.
Tip: When beginning transplants, stagger the start of your seedlings to spread out the crop. For example, if you are going to grow 24 plants, sow six in the seed tray today, sow six more a week later, etc.
Transplant lettuce seedlings into the garden after all danger of frost has past. Ideally, transplant them on a cool or cloudy day. Water well after transplanting. Space plants 12" apart in rows 18" apart.
The trick to successfully growing lettuce, is to keep it growing fast, with lots of water and fertilizer. The soil should be rich and fertile, and well draining. Keep the soil moist. Frequent use of nitrogen rich fertilizer is recommended. The plants respond well to regular applications of liquid fertilizer.
Transplanting Tip: When transplanting any type of lettuce in hot weather, place some form of sun shade over the plant for a couple of days. Any makeshift shade will do.
It's important to time the crop to mature prior to the onset of hot dry weather. In these conditions, the plant will bolt...go to seed. It can also split or rot.
For a fall crop, an indoor start is best. Lettuce seeds do not germinate well in the hot soil of mid-summer.
Great hydration food for tortoises! Feed in moderation. Although head lettuce does not contain a substantial quantity of nutrients for tortoises, it does contain plenty of water for a practical summer snack. See The Tortoise Table.
Terms and conditions, READ THIS PLEASE: Orders over $14 from this ad will be shipped with tracking, Otherwise: Seeds will be shipped economy/standard or first class 2-10 day shipping (NO TRACKING and no planting instructions to keep seed costs to the buyer low), in a ziplock baggie. Our goal is to save you money on quality seeds. We are responsible sellers, and we make sure our buyers are well taken care of. Shipped within 2 business days after payment. We are a seller that caters to experienced gardeners. (germination and plant care information is readily available online, but if you can't find germinating and care instructions, please feel free to message us). Most of our listings include germination instructions, so we do not ship growing instructions. Multiple orders of a single item will be combined into 1 ziplock. We are not responsible for buyer germination success, seeds have been tested. Seed count is approximate, and packaged by weight. Seeds vary in size, weight is exact, and based upon empirical count, quantity is estimated. Liability of seller is limited to the cost of the item(s).
Zellajake Farm and Garden: "Seeds for all your planting needs" since 2013