---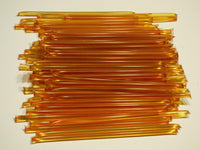 Perfect on-the-go treats! Natural wildflower honey (honey is natural). Delicious snack for kids!
There is no need to worry about shelf-life with this snack.
Ingredients: Honey, natural blackberry flavor,natural colors, caramel color, citric acid.
Suggestions: school snacks, home snacks, outdoor activity, pop and squeeze onto your favorite dessert, toast, tea flavoring, pancakes.

To open the straws, pinch firmly about 1" from the end, make sure that the seam is vertical, up and down, bite down at about 1/2" from the end. The straw should "pop" open, and immediately release an intensely sweet flavor.
Terms and conditions: Purchases from this ad valued above $14 will have tracking. Please allow 2 business days handling, and 2-6 days postal delivery time, for a total eta of 4-8 business days. If there is any problem whatsoever with your order, please contact us immediately with a photo. The straws will have no markings/tags. Freshness and flavor absolutely guaranteed.