---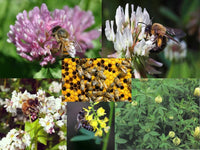 A unique, hard to find annual, perennial and biennial clover and buckwheat seed blend!
Honeybees, rabbits, tortoises, deer and dragon lizards will all love this fall/spring planted cover crop.
Buckwheat- adds darkness to honey, great at self re-seeding, rapid growing
Yellow sweet blossum clover- high yielding
Big bee burseem/burseam clover- high yielding
White clover- perennial, blooms sporadically through the entire growing season
Red clover- native pollinator favorite
Seed Rate: 1 lb. per 2,000 sq. ft.
Seed Depth: 1/4 inch
Planting Time: Spring - Fall
Inoculant: Pre-Inoculated
Terms and conditions, READ THIS PLEASE: Orders over $14 from this ad will be shipped with tracking, Otherwise: Seeds will be shipped economy/standard or first class 2-10 day shipping (NO TRACKING and no planting instructions to keep seed costs to the buyer low), in a ziplock baggie. Our goal is to save you money on quality seeds. We are responsible sellers, and we make sure our buyers are well taken care of. Shipped within 2 business days after payment. We are a seller that caters to experienced gardeners, or those that are capable of looking up instructions independently (germination and plant care information is readily available online, but if you can't find germinating and care instructions, please feel free to message us). We do not include growing instructions. Multiple orders of a single item will be combined into 1 ziplock. We are not responsible for buyer germination success, seeds have been tested. Seed count is approximate, and packaged by weight. Seeds vary in size, weight is exact, and based upon empirical count, quantity is estimated. Liability of seller is limited to the cost of the item(s).