---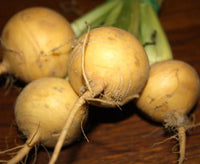 Turnip - Golden Globe - Brassica rapa (Rapifera group)
Always Free Shipping!
Germination test date and results will be on packet.
Biennial Yellow 3"-4" diameter globes, sweet tender mild deep golden-yellow flesh, very fine flavor, medium-sized cut leaf tops, keeps well, nice to cook for mashing, tastes more like a rutabaga than an early summer turnip, excellent for home gardens.
Soil & Water: Turnips like loose, moderately fertile soil with a pH of 6.5-7.0. Water moderately. They prefer cool weather and grow best when grown quickly in 60-65F daytime temperatures. Hot weather causes woody growth.
Planting & Growing: While seeds can be started indoors, they perform best when seeds are sown directly 4-6 weeks before the last frost. Sow every 2 weeks through midsummer for a continuous harvest.
Harvesting & Storage: Harvest a few greens when the plants are young and eat the rest when you harvest the roots at a length of 3"-4". The greens and roots are best eaten fresh, though both can be frozen. Store roots in cool, moist conditions.
Did You Know? Turnip greens are an excellent source of many vitamins including vitamins A, C, E, B6, folate and the minerals calcium, copper and manganese.
Soil Temperature: 50-85F
Planting Depth: 1/4"-1/2"
Germination: 2-14 Days
Height At Maturity: 14"-22"
Days To Maturity: 45-65 Days
Sun/Shade: Full Sun
Spacing After Thinning: 4"
Terms and conditions, READ THIS PLEASE: Orders over $14 from this ad will be shipped with tracking, Otherwise: Seeds will be shipped economy/standard or first class 2-10 day shipping (NO TRACKING and no planting instructions to keep seed costs to the buyer low), in a ziplock baggie. Our goal is to save you money on quality seeds. We are responsible sellers, and we make sure our buyers are well taken care of. Shipped within 2 business days after payment. We are a seller that caters to experienced gardeners. (germination and plant care information is readily available online, but if you can't find germinating and care instructions, please feel free to message us). Most of our listings include germination instructions, so we do not ship growing instructions. Multiple orders of a single item will be combined into 1 ziplock. We are not responsible for buyer germination success, seeds have been tested. Seed count is approximate, and packaged by weight. Seeds vary in size, weight is exact, and based upon empirical count, quantity is estimated. Liability of seller is limited to the cost of the item(s).
Zellajake Farm and Garden: "Seeds for all your planting needs" since 2013