---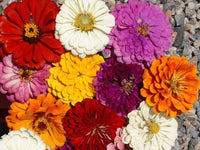 Always Free Shipping!!
California Giant Zinnia Flower Seed Mix!
Easy to grow with powerfully bright colors guaranteed!
Seed coverage: 40 seeds per square foot.
Adding giant zinnias in your garden will add tremendous color color and attract butterflies to your property. Giant zinnias make excellent cut flowers, lasting for at least 4 days in a vase. Giant zinnias are sun-loving plants (in zones 9 and above avoid mid-day sun) that reach heights of up to 4 feet. Five-inch blooms with layers of rectangular petals are the defining characteristic of these easy-to-grow annuals. Bloom colors include brilliant oranges, pinks, yellows, reds and whites.
Germination: Sow seeds 1/4 inch deep and in rows spaced 4 to 24 inches apart, or 40 seeds per square foot for mass plantings. Plant in well-draining soil and keep consistently moist for 2 weeks. Once established, plants have medium to light watering needs.
Zellajake Farm and Garden: "Seeds for all your planting needs" since 2013