---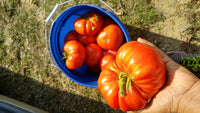 Always Free Shipping!
Item specifics
Seller Notes: Germination test date and results will be on packet.
Sunlight: Full Sun
Country/Region of Manufacture: United States
Climate: Cold, Sub-tropical, Temperate
The German Johnson tomato is an heirloom, inderminate variety from West Virginia that turns deep red-pink as it ripens on the vine. This open-pollinated tomato takes 78 to 80 days from the time it is transplanted out in the garden to produce its tasty one-pound beefsteak type tomatoes. The large fruits have a firm texture and few seeds, ideal for slicing fresh or canning. Start German Johnson tomatoes from seed indoors about one month before expected last frost.
Fill 2-inch pots or cell-packs with damp soilless seed-starting mix. Place one German Johnson tomato seed in each cell or pot on the mix. Gently press seeds into the soil so that each seed is just barely covered. Start seeds anytime between mid January and mid April; the seedlings will be ready to transplant six weeks after planting the seeds. Place the seed flat or pots in a bright sunny window and maintain 70 degrees Fahrenheit, using heating mat designed for seed starting, if needed, to help regulate soil temperature. Keep the soil damp with regular watering. Look for seedlings to emerge one week after planting. Spread a 2-inch layer of seasoned manure on the planting bed. Dig the manure into the top 6 inches of soil, using a tiller in large gardens. Prepare the garden bed in spring two weeks before planting. Transplant the seedlings into the prepared garden bed when they are six weeks old. Plant anytime between the last week in February and the first two weeks of June.
Terms and conditions, READ THIS PLEASE: Orders over $14 from this ad will be shipped with tracking, Otherwise: Seeds will be shipped economy/standard or first class 2-10 day shipping (NO TRACKING and no planting instructions to keep seed costs to the buyer low), in a ziplock baggie. Our goal is to save you money on quality seeds. We are responsible sellers, and we make sure our buyers are well taken care of. Shipped within 2 business days after payment. We are a seller that caters to experienced gardeners. (germination and plant care information is readily available online, but if you can't find germinating and care instructions, please feel free to message us). Most of our listings include germination instructions, so we do not ship growing instructions. Multiple orders of a single item will be combined into 1 ziplock. We are not responsible for buyer germination success, seeds have been tested. Seed count is approximate, and packaged by weight. Seeds vary in size, weight is exact, and based upon empirical count, quantity is estimated. Liability of seller is limited to the cost of the item(s).
Zellajake Farm and Garden: "Seeds for all your planting needs" since 2013