---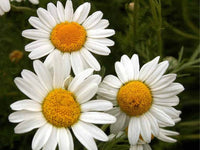 Always Free Shipping!!
Item specifics
Seller Notes: Germination test date and results will be on packet.
Country/Region of Manufacture: United States
Brand: zellajake
German Chamomile Seeds! At up to 8 million seeds a pound, these fresh seeds look like dust, but looks can be deceiving, as these tiny seeds grow up to be beautifully flowered tea producing plants!
Chamomile grows in the form of small shrub that usually reaches 8 to 12 inches in height. German chamomile grows to the height of 3 feet.
Chamomile has green, feathery leaves that are alternately arranged on the stem.
Flower consists of large number of individual flowers called florets. Outer part of the flower consists of 18 white ray florets. Yellow disk, located in the center of the flower, consists of miniature florets that have tubular shape.
Chamomile blooms from June to July. Flies are main pollinator of chamomile flowers.
Name "chamomile" originates from Greek words "chamos", which means "ground" and "milos" which means "apple". Chamomile is named that way because it grows close to the ground and smells like apple.
Chamomile was used for the process of mummification in the ancient Egypt.
Chemical compounds and oils that are used in medical and cosmetic industry are extracted from the flower.
Even though beneficial effects of chamomile are not scientifically proven, chamomile is used in treatment of more than 100 different disorders.
Chamomile can be used in the form of tea, tincture, lotion, capsules or various drops.
Chamomile possesses anti-inflammatory properties, can be used for disinfection and to relieve the pain. It is mainly used for the treatment of urinary and ocular infections, skin rash, toothache, respiratory pain, premenstrual pain, migraine, insomnia, anxiety…
Chamomile can induce side effects when it is consumed in combination with other medications. Also, chamomile may induce premature birth because it stimulates contraction of the uterus.
People that are allergic to ragweed will probably exhibit allergy to the chamomile. Allergy can be triggered after application of cream containing chamomile or after consumption of tea.
Homemade chamomile tea can be used for lighting of the blond hair.
Besides its decorative morphology, chamomile can be very useful in the garden. It facilitates growth of the surrounding plants and even heals nearby sick plants.
Lifespan of chamomile depends on the species. Roman chamomile is annual plant which lives only one year. German chamomile is perennial plant that lives more than two years.
Terms and conditions, READ THIS PLEASE: Orders over $14 from this ad will be shipped with tracking, Otherwise: Seeds will be shipped economy/standard or first class 2-10 day shipping (NO TRACKING and no planting instructions to keep seed costs to the buyer low), in a ziplock baggie. Our goal is to save you money on quality seeds. We are responsible sellers, and we make sure our buyers are well taken care of. Shipped within 2 business days after payment. We are a seller that caters to experienced gardeners. (germination and plant care information is readily available online, but if you can't find germinating and care instructions, please feel free to message us). Most of our listings include germination instructions, so we do not ship growing instructions. Multiple orders of a single item will be combined into 1 ziplock. We are not responsible for buyer germination success, seeds have been tested. Seed count is approximate, and packaged by weight. Seeds vary in size, weight is exact, and based upon empirical count, quantity is estimated. Liability of seller is limited to the cost of the item(s).
Zellajake Farm and Garden: "Seeds for all your planting needs" since 2013