---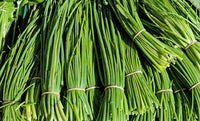 Always Free Shipping!!
Garlic Chives
Description/Taste Garlic chives may be of the same vernacular as common chives, but appearance and flavor-wise they impose different values and characteristics. Garlic chives have flat strap-like stems versus hallow thin spherical stems and their flavor is richer and more intense, much like their aroma.
Germination test date and results will be on packet.
Planting and spacing. Grow chives from seed or divisions–small bulbs separated from clumps. Sow seed ¼ to ½ inch deep. Seedlings can grow close together to form clumps. Space clumps or rows 8 to 12 inches apart; they will fill in over time. To plant divisions, use a spade or shovel to divide clumps of plants, trim back leaves to 1 inch above the ground and replant the divisions covering the bulblets with soil. Tested 9/2016 Germination rates can be inconsistent with garlic chives. 70% under ideal conditions.
Nutritional Value Garlic chives are rich in vitamin C, contain carotene, vitamin B1 and B2, calcium and iron.
Applications Garlic chives are most often used in Asian cuisine. Traditionally they are a classic element of pad Thai but they may also be used as a substitute for standard chives. Use minced garlic chives to finish meat, poultry or seafood dishes. Pair with other fresh herbs, cheeses, mushrooms, noodles and chiles. The color and slight onion flavor or chives may be used to lighten as well as enhance the flavors in a dish. Refrigerate to store, making sure chives are kept dry until ready to use.
Ethnic/Cultural Info Garlic chives have been used as culinary herbs for thousands of years and were probably used first by the Chinese and ancient Greeks.
Geography/HistoryGarlic chives are native to Asia and Central and Northern Europe. They do not have incredible commercial economic value and are most often found in Asian markets, home gardens and small farms where crop rotation and natural pest repellants are prevalent.
Terms and conditions, READ THIS PLEASE: Orders over $14 from this ad will be shipped with tracking, Otherwise: Seeds will be shipped economy/standard or first class 2-10 day shipping (NO TRACKING and no planting instructions to keep seed costs to the buyer low), in a ziplock baggie. Our goal is to save you money on quality seeds. We are responsible sellers, and we make sure our buyers are well taken care of. Shipped within 2 business days after payment. We are a seller that caters to experienced gardeners. (germination and plant care information is readily available online, but if you can't find germinating and care instructions, please feel free to message us). Most of our listings include germination instructions, so we do not ship growing instructions. Multiple orders of a single item will be combined into 1 ziplock. We are not responsible for buyer germination success, seeds have been tested. Seed count is approximate, and packaged by weight. Seeds vary in size, weight is exact, and based upon empirical count, quantity is estimated. Liability of seller is limited to the cost of the item(s).
Zellajake Farm and Garden: "Seeds for all your planting needs" since 2013