---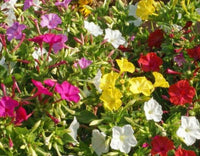 Four O'clock Formula Mix Seeds
This easy to grow introduced plant has fragrant, trumpet-shaped flowers in a variety of colors, open in the afternoon all throughout the summer. 
In our garden in central Florida, these flowers come out in early morning, close before mid-day, then come back out in the afternoon. This colorful mix is drought tolerant and grows well in all zones and as a perennial in zones 9 and 10.  Use this fast growing, bushy plant for garden borders and against foundations and fences.  Four O'Clocks reseed readily, so spreading to new areas is easy. This popular garden flower earned its name because of its habit of opening in late afternoon; this unique characteristic is caused by fluctuations in temperature and light. The genus name "Mirabilis" comes from the Latin word for "wonderful," while the species name "jalapa" refers to an often used name for locations in South and Central America. Founding father Thomas Jefferson grew these flowers in his extensive estate gardens at Monticello, referring to them as the "fragrant Marvel of Peru." Historians believe that the ancient Aztecs were the first to raise these flowers, which made their way to Europe by the early 18th century and were classified by Linnaeus in 1753. Attracts birds and butterflies! Formula Mix is specially blended to provide a balance of pink, red, rose, white and yellow flowers.
Sow in the garden in early spring, plant seeds just beneath soil surface, plant 2-3 seeds per hole, 6 inches apart. Keep the soil evenly moist, but not soaked, until germination, which should occur within 10-14 days. When the seedlings can safely be handled, thin or transplant for a bigger bloom area.
 Zellajake Farm and Garden: "Seeds for all your planting needs" since 2013