---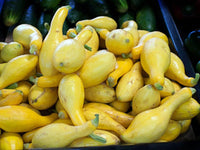 Crookneck Summer Squash Seeds Contact us for bulk orders over 2 LB.
Please place all desired items in cart before purchasing. Thanks for shopping with us! J
Early Summer Crookneck is a staple early squash variety that is perfect for the personal garden or the farmer's market! Holds and ships well. Bush type plants produce warted light-yellow curved neck fruits with creamy-white flesh, with a good buttery nut flavor! Harvest fruit when about 6". Excellent eating quality with a continuous yield.
Plant 5 seeds per hill, , 8 feet apart. Plant the seeds when the soil temperature reaches at least 70 degrees F. Plant them 1/2" deep, 3-4' apart and thin to the healthiest 2 plants per hill. For companion planting benefits, plant squashes along with corn but avoid planting them with potatoes.