---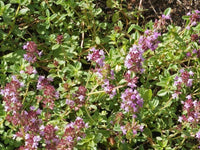 Always Free Shipping!!
Creeping Thyme
Just like other thyme varieties, creeping thyme is edible with a flavor and aroma akin to mint when crushed or steeped for teas or tinctures. To harvest creeping thyme ground cover, either remove the leaves from the stems or dry by snipping from the plant and hanging upside down in a dark, well aerated area. Harvest creeping thyme in the morning when the essential oils of the plant are at their peak. These TINY seeds grow functional, edible plants.
Germination test date and results will be on packet.
Flowering creeping thyme is very attractive to bees and is a nice addition to a garden focused on honeybees and, in fact, the pollen from the blooming thyme will flavor the resulting honey.Another creeping thyme fact is despite its enticing odor, growing creeping thyme ground cover is deer resistant, making it an ideal landscape candidate in areas frequented by them. Creeping thyme is also capable of withstanding the tromping upon by rambunctious kids (making it kid resistant as well!), which makes it an exceptional planting choice anywhere around one's home that has frequent foot traffic.
How to Plant Creeping Thyme
Use seed starting mix of your choosing. Pour out the contents into a metal or plastic bowl. Spread out the seed starting mix into a colander or fine-wire basket. Sift the material through the colander or wire basket to remove any small debris or particles, which can interfere with the germination of the thyme seeds. Scoop the sifted seed starting mix into biodegradable pots. Pack the mix down gently in each of the pots using your fingers or the back of a metal or plastic spoon. Mist the seed starting mix with water until it is visibly well moistened. Sprinkle creeping thyme seeds on the surface of the seed starting mix. Gently press the seeds into the soil no deeper than about 1/8 inch using the metal spoon. Spread a layer of clear plastic wrap over each of the biodegradable pots. Secure with rubber bands if needed. To ensure the best rates of germination, keep the temperature around 70 degrees Fahrenheit. Poke two or three holes in the plastic wrap to allow for ventilation and to prevent the seeds from dying due to any fungal diseases caused by excess moisture. Remove the plastic wrap after germination begins in eight to 10 days.
Growing creeping thyme is a simple process due to its compatibility in a variety of soils and light exposures. Although this ground cover prefers well-drained lightly textured soils, it will grow quite well in less than desirable medium and thrive in anywhere from sun to light shade environments.
Soil should be kept moist but not wet, as the growing creeping thyme plant is susceptible to root drowning and edema. The soil pH for growing creeping thyme plants should be neutral to slightly alkaline.
Plant creeping thyme 8 to 12 inches apart to allow for its spreading habitat.
Terms and conditions, READ THIS PLEASE: Orders over $14 from this ad will be shipped with tracking, Otherwise: Seeds will be shipped economy/standard or first class 2-10 day shipping (NO TRACKING and no planting instructions to keep seed costs to the buyer low), in a ziplock baggie. Our goal is to save you money on quality seeds. We are responsible sellers, and we make sure our buyers are well taken care of. Shipped within 2 business days after payment. We are a seller that caters to experienced gardeners. (germination and plant care information is readily available online, but if you can't find germinating and care instructions, please feel free to message us). Most of our listings include germination instructions, so we do not ship growing instructions. Multiple orders of a single item will be combined into 1 ziplock. We are not responsible for buyer germination success, seeds have been tested. Seed count is approximate, and packaged by weight. Seeds vary in size, weight is exact, and based upon empirical count, quantity is estimated. Liability of seller is limited to the cost of the item(s).
Zellajake Farm and Garden: "Seeds for all your planting needs" since 2013