---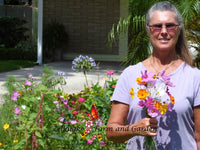 Always Free Shipping!!
Item specifics
Germination test date and results will be on packet.
Country/Region of Manufacture: United States
Brand: zellajake
Easy, brilliant colored, rapid blooming superior mix of cosmos.
We grow cosmos each year, and the result is always an explosion of color. As Deb shows in the pictures, a cosmos mix makes a fantastic cut flower bouquet.
Will grow anywhere in the U.S. Although these will do well in part sun, full sun is recommended.
Plant the seeds up to 1/4" deep in cultivated soil, and keep watered until seedlings emerge, then, watch them grow. If you fertilize, avoid high nitrogen content fertilizers, as this will cause too much green, and not enough color. Deadhead the spent flowers to promote new flowering growth. Trimming is necessary to prolong the bloom period. So keep the bouquets fresh, and you will be rewarded with even more flowers!
1600 seeds recommended for each 10 square foot area.
Terms and conditions, READ THIS PLEASE: Orders over $14 from this ad will be shipped with tracking, Otherwise: Seeds will be shipped economy/standard or first class 2-10 day shipping (NO TRACKING and no planting instructions to keep seed costs to the buyer low), in a ziplock baggie. Our goal is to save you money on quality seeds. We are responsible sellers, and we make sure our buyers are well taken care of. Shipped within 2 business days after payment. We are a seller that caters to experienced gardeners. (germination and plant care information is readily available online, but if you can't find germinating and care instructions, please feel free to message us). Most of our listings include germination instructions, so we do not ship growing instructions. Multiple orders of a single item will be combined into 1 ziplock. We are not responsible for buyer germination success, seeds have been tested. Seed count is approximate, and packaged by weight. Seeds vary in size, weight is exact, and based upon empirical count, quantity is estimated. Liability of seller is limited to the cost of the item(s).
Zellajake Farm and Garden: "Seeds for all your planting needs" since 2013