---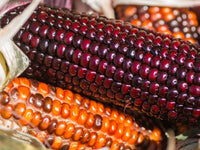 Always Free Shipping!!
Item specifics
Seller Notes: Germination test date and results will be on packet.
Country/Region of Manufacture: United States Climate: Sub-tropical, Temperate
Brand: zellajake
Mini ornamental corn is available in late summer through the fall.
Current Facts
Mini ornamental corn is technically a grass that is part of the species, Zea mays. There are many varieties of mini ornamental corn such as: Little Indian and Wampum. Today corn is categorized by kernel or endosperm type into six main varieties: pop, flour, dent, waxy, sweet and flint. Mini ornamental corn is a type of flint corn, a name which comes from its hard as stone exterior.
Description/Taste
Mini ornamental corn are approximately four inches long and look much like their larger counterpart. The kernels come in a range of colors including red, yellow, black, brown, cream and calico. Their husks tend to be ivory or deep purple.
Applications
Beautiful fall decorations are made from mini ornamental corn. Mix with ornamental gourds, bundles of hay or miniature pumpkins for a blend of seasonal items. Some types of mini ornamental corn can be removed from the husk and popped like traditional popcorn or ground down to make corn meal.
Geography/History
Native to Mexico and the Americas, mini ornamental corn made its way first to Europe then around the globe via explorers and traders. Mini ornamental corn grown at home can generally be harvested in early fall. Once the husk begins to dry, the ears can be harvested however they should be left to dry for another full week before use.
Terms and conditions, READ THIS PLEASE: Orders over $14 from this ad will be shipped with tracking, Otherwise: Seeds will be shipped economy/standard or first class 2-10 day shipping (NO TRACKING and no planting instructions to keep seed costs to the buyer low), in a ziplock baggie. Our goal is to save you money on quality seeds. We are responsible sellers, and we make sure our buyers are well taken care of. Shipped within 2 business days after payment. We are a seller that caters to experienced gardeners. (germination and plant care information is readily available online, but if you can't find germinating and care instructions, please feel free to message us). Most of our listings include germination instructions, so we do not ship growing instructions. Multiple orders of a single item will be combined into 1 ziplock. We are not responsible for buyer germination success, seeds have been tested. Seed count is approximate, and packaged by weight. Seeds vary in size, weight is exact, and based upon empirical count, quantity is estimated. Liability of seller is limited to the cost of the item(s).
Zellajake Farm and Garden: "Seeds for all your planting needs" since 2013
Image Credit Flickr Creative Commons - Korona Lacasse - https://www.flickr.com/photos/korona4reel/