---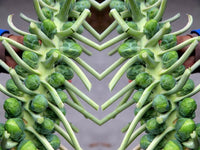 All of my favorite cool season garden seeds discounted! These aren't the cheapest seeds, they are the "Bestest Freshest"!
We have other lists of vegetable, herb and perennial seeds in our store, with entirely different varieties. EASIER! in the Ebay search window, type in "selection zellajake" to do one stop discount shopping!
Complete Selection of Cool Season Seeds!
30,000 plus seeds, enough to plant an acre for a short season grower or extra-long season southern farmer. A southern farmer wishing to get two crops of vegetables in one growing season will find crop rotation is nearly seamless with this selection being utilized for the first planting. I picked many of these seeds due to their popularity; however, I have also chosen some varieties that aren't necessarily popular, but cultivars that I recommend from personal experience. The seeds will be shipped in ziplock baggies in bubble mailers for safe travel. Item will be shipped first class, with tracking within 2 business days.
Lettuce Black Seeded Simpson 2100
Lettuce Red Deer Tongue 2000
Lettuce Romaine Paris Island.Cos 4000
Lettuce Ruby Leaf 4000
Lettuce Romaine Freckles 2000
Cabbage Brunswick 2000
Cabbage Early Market Copenhagen 2000
Cabbage Chinese Canton Pak Choi/ Bok Choi 900
Pak Choi Michihili Pak Choi/ Bok Choi 1200
Onion Walla Walla 200
Onion Red Grano 400
Onion Sweet Spanish Yellow 600
Onion Texas Early Grano 500
Onion Evergreen Wh. Bunching 800
Onion, Leek American Flag 200
Bean Lima Henderson Bush 120
Bean Lima White Dixie Butter Pea 200
Bean Blue Lake Bush 300
Bean Fava 100
Pea Lincoln Shell 200
Turnip Purple Top White 200
Turnip White Egg 200
Kohlrabi Purple Vienna 450
Kale Siberian Dwarf 750
Carrot Atomic Red 500
Carrot Cosmic Purple 600
Cauliflower Snowball X Improved 800
Celery Utah 52/70....600
Brussel Sprout Long Island Improved 800
Brussel Sprout Catskill 800
Broccoli De Cicco 1000
Terms and conditions, READ THIS PLEASE: Orders over $14 from this ad will be shipped with tracking, Otherwise: Seeds will be shipped economy/standard or first class 2-10 day shipping (NO TRACKING and no planting instructions to keep seed costs to the buyer low), in a ziplock baggie. Our goal is to save you money on quality seeds. We are responsible sellers, and we make sure our buyers are well taken care of. Shipped within 2 business days after payment. We are a seller that caters to experienced gardeners. (germination and plant care information is readily available online, but if you can't find germinating and care instructions, please feel free to message us). Most of our listings include germination instructions, so we do not ship growing instructions. Multiple orders of a single item will be combined into 1 ziplock. We are not responsible for buyer germination success, seeds have been tested. Seed count is approximate, and packaged by weight. Seeds vary in size, weight is exact, and based upon empirical count, quantity is estimated. Liability of seller is limited to the cost of the item(s).
Zellajake Farm and Garden: "Seeds for all your planting needs" since 2013