---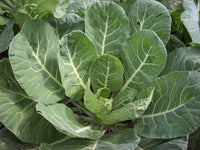 Buy Two Orders Collard Seeds from this listing, Get One Order Seeds Free
Simply buy two orders and we will ship 3 orders in one packet.
Common name: "Collards Greens Georgia Southern"
Latin name: Brassica spp
Image coming soon
Plant date: 3 - 4 weeks before last frost
Germination: 7 - 14 days
Spacing: 12" - 14"
Crop time: 75
Start from: Seeds
Container grow-able: No
Pests: Cabbage worms
Germination test date and results will be on packet.
Being a Cabbage relative it tolerates cool weather well. The plants produce large open heads of thick blue-green flavorful leaves. It's rich in vitamins and excellent for cooking or freezing.
The Bed: Add a fresh layer of rich compost to the top soil, then till or spade the bed to loosen the soil and work in the compost. Rake level.
How to Grow: Collard Greens can be planted 3 to 4 weeks before last frost. Plant seed 1" deep, spaced 3" apart. Rows should be 20" to 24" apart. Thin or transplant seedlings 12" - 14" apart after the fourth set of true leaves appear. Keep the soil moist but not soggy until the seeds germinate. After germination, water as needed. Collard Greens plants can be lightly mulched to conserve moisture and to cool the soil.
Harvesting: Harvest leaves starting at the bottom of the plant any time they are large enough.
Terms and conditions, READ THIS PLEASE: Orders over $14 from this ad will be shipped with tracking, Otherwise: Seeds will be shipped economy/standard or first class 2-10 day shipping (NO TRACKING and no planting instructions to keep seed costs to the buyer low), in a ziplock baggie. Our goal is to save you money on quality seeds. We are responsible sellers, and we make sure our buyers are well taken care of. Shipped within 2 business days after payment. We are a seller that caters to experienced gardeners. (germination and plant care information is readily available online, but if you can't find germinating and care instructions, please feel free to message us). Most of our listings include germination instructions, so we do not ship growing instructions. Multiple orders of a single item will be combined into 1 ziplock. We are not responsible for buyer germination success, seeds have been tested. Seed count is approximate, and packaged by weight. Seeds vary in size, weight is exact, and based upon empirical count, quantity is estimated. Liability of seller is limited to the cost of the item(s).
Zellajake Farm and Garden: "Seeds for all your planting needs" since 2013