---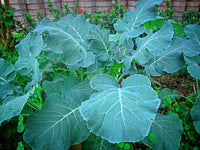 Always Free Shipping!!
Vates Collards!
You can grow collard greens as either a spring or fall crop, though your greens will be more flavorful and sweeter when grown in the cool autumn. Collards are usually sown right into the garden rather than indoors for transplants.
In the spring, get your soil ready for seeds about 6 to 8 weeks before your last frost date. Dig down to loosen the soil and add in compost or aged manure for nutrients. Collards are considered to be "heavy-
feeders". Plant a few seeds every 2 feet, and thin them down to 1 plant after they sprout. Seeds should be planted just a 1/4 inch under the surface.
Germination test date and results will be on packet.
If you want to start harvesting young greens earlier, you can not bother with the specific spacing and just sprinkle the seeds over the soil. Cover them over with a thin layer of soil. As the plants begin to grow, you can pick the young ones for eating, until you are left with larger plants with at least 2 feet of spacing between them.
Later in the season, you can seed out your fall crop. For many people, this would be their main collard crop for the year. Follow the same planting arrangements as for the spring crop above, but start them out about 4 to 6 weeks after your last frost date.
Collard greens are one of those crops that you harvest at your leisure throughout the growing season.
Water your plants often. Dry periods won't necessarily harm the plant, but the leaves will take on a much stronger flavor afterwards and possibly become too bitter to eat.
Fertilizing with a high-nitrogen blend of fertilizer is a great help to boost leaf production. Just remember that this kind of fertilizer should only be used on leafy green vegetables. It will help leaves develop but will shrink or stunt any fruit or tuber formation. Regular fertilizer is also fine with collards if that is what you are using. Give your plants a feeding two or three times through the summer.
Collards do grow larger than most other greens, so you will have to have one plant per 10″ pot. Larger containers are fine with 2 plants as long as you can provide at least 18 to 20 inches between their main stalks. Keep them well-watered and well-fed with fertilizer.
You can start taking leaves about 4 to 6 weeks after you've started your seeds. If you let the leaves get too large before cutting, there may be a tough central stalk through the leave that will have to be cut out before using.
You can pick the leaves as the plant grows, always cutting off the ones at the bottom of the plant. As the inner stalk continues to grow upwards and produce more leaves, your collard plant will eventually look like a little tree with a bare stem at the bottom and leaves on the top. They will start to get top-heavy towards the end of the season and may require support.
For spring collards, your growing season comes to an end when hot weather arrives and your plants bolt to seed. The leaves will be too bitter to eat at this point. It's not a problem with fall collards, and you can keep on harvesting well after the frosts start arriving.
Cooked collard greens can be frozen for longer storage, but the fresh leaves will only last a few days in the fridge.
Terms and conditions, READ THIS PLEASE: Orders over $14 from this ad will be shipped with tracking, Otherwise: Seeds will be shipped economy/standard or first class 2-10 day shipping (NO TRACKING and no planting instructions to keep seed costs to the buyer low), in a ziplock baggie. Our goal is to save you money on quality seeds. We are responsible sellers, and we make sure our buyers are well taken care of. Shipped within 2 business days after payment. We are a seller that caters to experienced gardeners. (germination and plant care information is readily available online, but if you can't find germinating and care instructions, please feel free to message us). Most of our listings include germination instructions, so we do not ship growing instructions. Multiple orders of a single item will be combined into 1 ziplock. We are not responsible for buyer germination success, seeds have been tested. Seed count is approximate, and packaged by weight. Seeds vary in size, weight is exact, and based upon empirical count, quantity is estimated. Liability of seller is limited to the cost of the item(s).
Zellajake Farm and Garden: "Seeds for all your planting needs" since 2013
Image Credit Flickr Creative Commons - I likE plants! - https://www.flickr.com/photos/i_like_plants/