---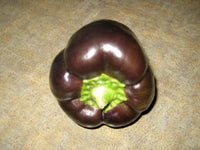 Always Free Shipping!!
Item specifics
Seller Notes: Germination test date and results will be on packet.
Season of Interest: Summer
USDA Hardiness Zone (°F): 5 (-20 to -10 °F)
Climate: Sub-tropical, Temperate, Tropical
Watering: Medium
Soil Type: Loam, Peat, Sand
Country/Region of Manufacture: United States
A unique and tasty sweet pepper, Chocolate Beauty Bell is a crowd pleaser!
If you are looking for a new twist on a summer vegetable garden classic, try planting a chocolate bell pepper plant (Capsicum annuum "Chocolate Bell"). Closely related to the classic green bell pepper, this cultivated variety has dark chocolate colored skin. Bell peppers, including the chocolate bell, need a long, hot growing season. Plant early in the spring and enjoy this tasty novelty when the summer harvest rolls around.
Any pepper that looks so different from the classic green pepper should have a unique taste and the chocolate bell doesn't disappoint. The peppers start out green and look just like other bell peppers in the garden, but then the fruit starts to turn deep chocolate brown as it ripens. The flesh inside is crispy, sweeter than a classic bell pepper and dark red in color. The sweet taste and deep color inside and out make this bell ideal for dressing up a summer salad and it will freeze well for a winter treat.
Starting Seeds
A soil temperature between 70 and 85 degrees Fahrenheit is ideal for starting chocolate bell pepper seeds. When starting seeds in a greenhouse or indoors, a seed heating pad works well to increase the soil temperature. Plant the seeds 1/4 inch deep in the soil and kept moist during germination and seedling development. You can expect germination in six to 12 days after planting the seeds. Once the seedlings are 4 to 6 inches tall, they are ready to go out in the garden.
Terms and conditions, READ THIS PLEASE: Orders over $14 from this ad will be shipped with tracking, Otherwise: Seeds will be shipped economy/standard or first class 2-10 day shipping (NO TRACKING and no planting instructions to keep seed costs to the buyer low), in a ziplock baggie. Our goal is to save you money on quality seeds. We are responsible sellers, and we make sure our buyers are well taken care of. Shipped within 2 business days after payment. We are a seller that caters to experienced gardeners. (germination and plant care information is readily available online, but if you can't find germinating and care instructions, please feel free to message us). Most of our listings include germination instructions, so we do not ship growing instructions. Multiple orders of a single item will be combined into 1 ziplock. We are not responsible for buyer germination success, seeds have been tested. Seed count is approximate, and packaged by weight. Seeds vary in size, weight is exact, and based upon empirical count, quantity is estimated. Liability of seller is limited to the cost of the item(s).
Zellajake Farm and Garden: "Seeds for all your planting needs" since 2013
Image Credit Flickr Creative Commons - EvinDC - https://www.flickr.com/photos/evmaroon/