---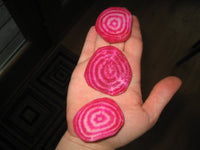 Beautiful and earthy Chioggia Beet seeds!
The Chioggia Beet is named after a coastal town in Northern Italy. It is a fast growing variety, ready for harvest in just 55-60 days. Its roots are marketed as mild and tender, with interior flesh of alternating rings of pink and white. Many gardeners have remarked on its resemblance to the stripes on a candy cane, once sliced open. The Chioggia Beet has been available in America since the late 1840s.
Germination test date and results will be on packet.
Description/Taste: Chioggia beets are made of of entirely edible roots, stems and leaves. ... Chioggia beets inherently contain the highest content of geosmin, an compound which gives them a deep earthy flavor and aroma.
AKA:
Bassano
Early Flat Bassano
Turnip-Rooted Bassano
Extra Early
Rogue Plate de Bassano
STATS:
Days to Harvest: 55-60
Diameter: 6-7 inches
Appearance: Pinkish-red exterior, with flesh of alternating rings of pink and white
Chioggia Beet Germination: Plant a full month before the last expected frost. Presoak seeds for two hours before planting to soften the hard seed coat and speed germination. Direct sow in full sun and well drained soil, placing the seeds 1/2" deep and 2-4" apart in rows 1-2' apart.
Terms and conditions, READ THIS PLEASE: Orders over $14 from this ad will be shipped with tracking, Otherwise: Seeds will be shipped economy/standard or first class 2-10 day shipping (NO TRACKING and no planting instructions to keep seed costs to the buyer low), in a ziplock baggie. Our goal is to save you money on quality seeds. We are responsible sellers, and we make sure our buyers are well taken care of. Shipped within 2 business days after payment. We are a seller that caters to experienced gardeners. (germination and plant care information is readily available online, but if you can't find germinating and care instructions, please feel free to message us). Most of our listings include germination instructions, so we do not ship growing instructions. Multiple orders of a single item will be combined into 1 ziplock. We are not responsible for buyer germination success, seeds have been tested. Seed count is approximate, and packaged by weight. Seeds vary in size, weight is exact, and based upon empirical count, quantity is estimated. Liability of seller is limited to the cost of the item(s).
Zellajake Farm and Garden: "Seeds for all your planting needs" since 2013
Image Credit Flickr Creative Commons - Michael Thompson - https://www.flickr.com/photos/mtthompson/