---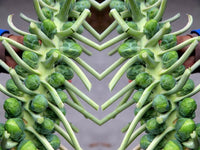 BUY 2 ORDERS brussel sprout seeds, get 1 order brussel sprout seeds FREE
Brussels sprouts can provide you with some special cholesterol-lowering benefits if you will use a steaming method when cooking them. The fiber-related components in Brussels sprouts do a better job of binding together with bile acids in your digestive tract when they've been steamed. When this binding process takes place, it's easier for bile acids to be excreted, and the result is a lowering of your cholesterol levels. Raw Brussels sprouts still have cholesterol-lowering ability — just not as much as steamed Brussels sprouts.
Brussels sprouts may have unique health benefits in the area of DNA protection. A recent study has shown improved stability of DNA inside of our white blood cells after daily consumption of Brussels sprouts in the amount of 1.25 cups. Interestingly, it's the ability of certain compounds in Brussels sprouts to block the activity of sulphotransferase enzymes that researchers believe to be responsible for these DNA-protective benefits.
For total glucosinolate content, Brussels sprouts are now known to top the list of commonly eaten cruciferous vegetables. Their total glucosinolate content has been shown to be greater than the amount found in mustard greens, turnip greens, cabbage, kale, cauliflower, or broccoli. In Germany, Brussels sprouts account for more glucosinolate intake than any other food except broccoli. Glucosinolates are important phytonutrients for our health because they are the chemical starting points for a variety of cancer-protective substances. All cruciferous vegetables contain glucosinolates and have great health benefits for this reason. But it's recent research that's made us realize how especially valuable Brussels sprouts are in this regard.
The cancer protection we get from Brussels sprouts is largely related to four specific glucosinolates found in this cruciferous vegetable: glucoraphanin, glucobrassicin, sinigrin, and gluconasturtiian. Research has shown that Brussels sprouts offer these cancer-preventive components in special combination.
Brussels sprouts have been used to determine the potential impact of cruciferous vegetables on thyroid function. In a recent study, 5 ounces of Brussels sprouts were consumed on a daily basis for 4 consecutive weeks by a small group of healthy adults and not found to have an unwanted impact on their thyroid function. Although follow-up studies are needed, this study puts at least one large stamp of approval on Brussels sprouts as a food that can provide fantastic health benefits without putting the thyroid gland at risk.
Health Benefits
You'll find nearly 100 studies in PubMed (the health research database at the National Library of Medicine in Washington, D.C.) that are focused on Brussels sprouts, and over half of those studies involve the health benefits of this cruciferous vegetable in relationship to cancer. This connection between Brussels sprouts and cancer prevention should not be surprising since Brussels sprouts provide special nutrient support for three body systems that are closely connected with cancer development as well as cancer prevention. These three systems are (1) the body's detox system, (2) its antioxidant system, and (3) its inflammatory/anti-inflammatory system. Chronic imbalances in any of these three systems can increase risk of cancer, and when imbalances in all three systems occur simultaneously, the risk of cancer increases significantly. Among all types of cancer, prevention of the following cancer types is most closely associated with intake of Brussels sprouts: bladder cancer, breast cancer, colon cancer, lung cancer, prostate cancer, and ovarian cancer.
Brussels Sprouts and Detox Support
The detox support provided by Brussels sprouts is both complicated and extensive. First, there is evidence from human studies that enzyme systems in our cells required for detoxification of cancer-causing substances can be activated by compounds made from glucosinolates found in Brussels sprouts. Brussels sprouts are an outstanding source of glucosinolates. The chart below shows the best studied of the glucosinolates found in Brussels sprouts and the detox-activating substances (called isothiocyanates) made from them.
History
While the origins of Brussels sprouts are unknown, the first mention of them can be traced to the late 16th century. They are thought to be native to Belgium, specifically to a region near its capital, Brussels, after which they are named. They remained a local crop in this area until their use spread across Europe during World War I. Brussels sprouts are now cultivated throughout Europe and the United States. In the U.S., almost all Brussels sprouts are grown in California.
How to Select and Store
Good quality Brussels sprouts are firm, compact, and vivid green. They should be free of yellowed or wilted leaves and should not be puffy or soft in texture. Avoid those that have perforations in their leaves as this may indicate that they have aphids residing within. If Brussels sprouts are sold individually, choose those of equal size to ensure that they will cook evenly. Brussels sprouts are available year round, but their peak growing period is from autumn until early spring.
Keep unwashed and untrimmed Brussels sprouts in the vegetable compartment of the refrigerator. Stored in a plastic bag, they can be kept for 10 days. If you want to freeze Brussels sprouts, blanch them first for between three to five minutes. They will keep in the freezer for up to one year.
Terms and conditions, READ THIS PLEASE: Orders over $14 from this ad will be shipped with tracking, Otherwise: Seeds will be shipped economy/standard or first class 2-10 day shipping (NO TRACKING and no planting instructions to keep seed costs to the buyer low), in a ziplock baggie. Our goal is to save you money on quality seeds. We are responsible sellers, and we make sure our buyers are well taken care of. Shipped within 2 business days after payment. We are a seller that caters to experienced gardeners. (germination and plant care information is readily available online, but if you can't find germinating and care instructions, please feel free to message us). Most of our listings include germination instructions, so we do not ship growing instructions. Multiple orders of a single item will be combined into 1 ziplock. We are not responsible for buyer germination success, seeds have been tested. Seed count is approximate, and packaged by weight. Seeds vary in size, weight is exact, and based upon empirical count, quantity is estimated. Liability of seller is limited to the cost of the item(s).
Zellajake Farm and Garden: "Seeds for all your planting needs" since 2013