---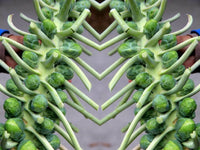 Catskill Brussel Sprout Seeds
Catskill is a variety of Brussels sprout which is a member of the Mustard family. Its botanical name is Brassica oleracea (Gemmifera Group) 'Catskill'.
Please place all desired items in cart before purchasing. Thanks for shopping with us! J
Catskill is a variety of heirloom OP Brussels sprout . Leaves usually appear in Dark spring green colour. Round, dark green sprouts grow along 20" stems. Fine flavor. Ready for picking about 90 days from setting or thinning plants in garden.
Leafy green vegetable plant that has a thick stalk that can grow up to three feet tall. The leaves are dark green and grow in whorls up the stem. The sprouts grow on the stalk of the plant in the leaf axils (between each set of leaves), maturing from the base of the stem first and continuing on up the stem.
Start seeds indoors about 8 weeks before outdoor planting.
Sow seeds ¼ inches deep in seed-starting formula
Keep the soil moist at 70 degrees F
Seedlings emerge in 10-21 days
Terms and conditions, READ THIS PLEASE: Orders over $14 from this ad will be shipped with tracking, Otherwise: Seeds will be shipped economy/standard or first class 2-10 day shipping (NO TRACKING and no planting instructions to keep seed costs to the buyer low), in a ziplock baggie. Our goal is to save you money on quality seeds. We are responsible sellers, and we make sure our buyers are well taken care of. Shipped within 2 business days after payment. We are a seller that caters to experienced gardeners. (germination and plant care information is readily available online, but if you can't find germinating and care instructions, please feel free to message us). Most of our listings include germination instructions, so we do not ship growing instructions. Multiple orders of a single item will be combined into 1 ziplock. We are not responsible for buyer germination success, seeds have been tested. Seed count is approximate, and packaged by weight. Seeds vary in size, weight is exact, and based upon empirical count, quantity is estimated. Liability of seller is limited to the cost of the item(s).
Zellajake Farm and Garden: "Seeds for all your planting needs" since 2013