---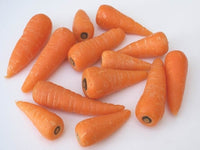 Always Free Shipping!!
Item specifics
Seller Notes: Germination test date and results will be on packet.
Climate: Sub-tropical, Temperate
Brand: zellajake
Country/Region of Manufacture: United States
Little Finger carrots, a smaller version of traditional carrots, a sweet and juicy addition to your backyard garden!
Little Finger carrots don't take as much room in your vegetable garden and grow well alongside many other varieties of produce. From sowing to harvest, this popular variety of baby carrot grows quickly with a minimal amount of work on your part.
Carrot - Little Finger - Daucus carota var. sativus
Biennial Little Finger is a gourmet baby carrot with 3" long, cylindrical, blunt roots. It has a very small core, smooth skin, and a deep-orange color. The tops are weak; harvest carefully and early. This baby carrot was developed in France for canning and pickling whole.
Soil & Water: Carrots prefer light, deeply tilled soils with plenty of added matter, good drainage, a pH range of 6.0-6.6, and regular water. Apply a mulch layer once established to keep roots cool.
Planting & Growing: Seed directly into 75F soil for quick germination. Mix the small seeds with dry coffee grounds or sand to improve seed distribution. Over planting requires thinning to provide sufficient growing room.
Harvesting & Storage: Loosen soil to pull carrots without breaking off tops. Trim off foliage to extend storage time. Layer roots in a container with damp medium and store in cool, moist conditions. Also good for canning or freezing.
Did You Know? Carrots are extremely high in vitamin A. They're also a good source of vitamin C and potassium.
Soil Temperature: 45-85F
Planting Depth: 1/4"-1/2"
Germination: 6-20 Days
Height At Maturity: 6"-10"
Days To Maturity: 50-68 Days
Sun/Shade: Full Sun
Spacing After Thinning: 2"-3"
Terms and conditions, READ THIS PLEASE: Orders over $14 from this ad will be shipped with tracking, Otherwise: Seeds will be shipped economy/standard or first class 2-10 day shipping (NO TRACKING and no planting instructions to keep seed costs to the buyer low), in a ziplock baggie. Our goal is to save you money on quality seeds. We are responsible sellers, and we make sure our buyers are well taken care of. Shipped within 2 business days after payment. We are a seller that caters to experienced gardeners. (germination and plant care information is readily available online, but if you can't find germinating and care instructions, please feel free to message us). Most of our listings include germination instructions, so we do not ship growing instructions. Multiple orders of a single item will be combined into 1 ziplock. We are not responsible for buyer germination success, seeds have been tested. Seed count is approximate, and packaged by weight. Seeds vary in size, weight is exact, and based upon empirical count, quantity is estimated. Liability of seller is limited to the cost of the item(s).
Zellajake Farm and Garden: "Seeds for all your planting needs" since 2013