---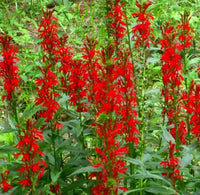 Always Free Shipping!!
Germination test date and results will be on packet.
These tiny seeds turn into clump forming brilliant red spikes set against green and purple bronze colored foliage. Each individual spike of scarlet flowers open from bottom to top and stays in bloom for several weeks. A favorite of hummingbirds. Makes an excellent cut flower. A real show stopper! It is hard to describe the intensity of a Cardinal Flower in bloom. It is as if the flowers catch sunlight inside some sort of crystal matrix and let it bounce around for awhile until it has been stripped of all but the deepest, purest red imaginable. Then and only then is the light released to burn crimson red into our corneas.
Germination:
Cold, moist stratification. Start at least 5 weeks before outdoor night temperatures are reliably in the 10 C (50 F) range. Place seed on the surface of a slightly moistened, sterile, soil-less growing mix. Put this in a labelled, sealed plastic bag and store in a refrigerator for one day. The next day place this in the freezer for one day. Repeat this for one week, alternating between the fridge and the freezer. After stratifying, place mixture on the surface of pots filled with growing media. Seed needs light to germinate, do not cover after planting. Keep moist but not soggy and very warm (21 C - 70 F). When seedlings are 5 cm (2 inches) tall or more, transplant into the garden spaced 30 cm (1 foot) apart.
Further details for
Lobelia cardinalis
Optimal Growing Conditions Appearance and Characteristics
Sun Exposure
Full Sun or
Partial Shade
Soil Type
Normal or
Sandy or
Clay
Soil pH
Neutral or
Alkaline or
Acid
Soil Moisture
Moist or
Wet
Care Level
Moderate Flower Colour
Red
Blooming Time
Mid Summer
Late Summer
Early Fall
Foliage Color
Deep Green
Plant Uses & Characteristics
Accent: Good Texture/Form
Attracts Butterflies
Attracts Hummingbirds
Border
Containers
Cut Flower
Massed
Poisonous/Toxic
Specimen
Waterside
Wild Flower
Woodland
Flower Head Size
Very Large
Height
90-120 cm
35-47 inches
Spread
45-60 cm
18-23 inches
Foot Traffic
None
Growth Rate
Medium
Terms and conditions, READ THIS PLEASE: Orders over $14 from this ad will be shipped with tracking, Otherwise: Seeds will be shipped economy/standard or first class 2-10 day shipping (NO TRACKING and no planting instructions to keep seed costs to the buyer low), in a ziplock baggie. Our goal is to save you money on quality seeds. We are responsible sellers, and we make sure our buyers are well taken care of. Shipped within 2 business days after payment. We are a seller that caters to experienced gardeners. (germination and plant care information is readily available online, but if you can't find germinating and care instructions, please feel free to message us). Most of our listings include germination instructions, so we do not ship growing instructions. Multiple orders of a single item will be combined into 1 ziplock. We are not responsible for buyer germination success, seeds have been tested. Seed count is approximate, and packaged by weight. Seeds vary in size, weight is exact, and based upon empirical count, quantity is estimated. Liability of seller is limited to the cost of the item(s).
Zellajake Farm and Garden: "Seeds for all your planting needs" since 2013