---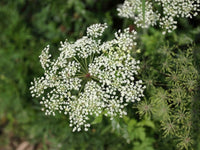 Always Free Shipping!!
Item specifics
Seller Notes: Germination test date and results will be on packet.
Country/Region of Manufacture: United States
Brand: zellajake
araway (Carum carvi) also known as meridian fennel, or Persian cumin, is a biennial plant in the family Apiaceae, native to western Asia, Europe and Northern Africa. The plant is similar in appearance to a carrot plant, with finely divided, feathery leaves with thread-like divisions, growing on 20-30 cm stems. The main flower stem is 40-60 cm tall, with small white or pink flowers in umbels. Caraway fruits (erroneously called seeds) are crescent-shaped achenes, around 2 mm long, with five pale ridges. Caraway is a favorite spicy herb for adding flavor to breads, salads, etc! Use leaves to flavor food during the first year, and use seeds the second year. Used to treat indigestion, flatulence, and colic. The plant prefers warm, sunny locations and well-drained soil rich in matter. In warmer regions it is planted in the winter months as an annual. In temperate climates it is planted as a summer annual or biennial. The fruits, usually used whole, have a pungent, anise-like flavor and aroma that comes from essential oils, mostly carvone and limonene. They are used as aspice in breads, especially rye bread. Although rye flour is naturally more dense than wheat flour, there is a theory that seeded rye bread is even more dense because the limonene from the caraway fruits has yeast-killing properties. Caraway is also used in liquors, casseroles, curry and other foods. It is more commonly found in European cuisine. For example, it is commonly added tosauerkraut. It is also used to add flavor to cheeses such as pultost, nøkkelost and havarti. Akvavit and several liqueurs are made with caraway. In the United Kingdom it is (or was) commonly used in "seedy cake" (possibly originating in Cornwall) - similar to a Madeira cake but using the caraway seeds instead of lemon and orange.
Terms and conditions, READ THIS PLEASE: Orders over $14 from this ad will be shipped with tracking, Otherwise: Seeds will be shipped economy/standard or first class 2-10 day shipping (NO TRACKING and no planting instructions to keep seed costs to the buyer low), in a ziplock baggie. Our goal is to save you money on quality seeds. We are responsible sellers, and we make sure our buyers are well taken care of. Shipped within 2 business days after payment. We are a seller that caters to experienced gardeners. (germination and plant care information is readily available online, but if you can't find germinating and care instructions, please feel free to message us). Most of our listings include germination instructions, so we do not ship growing instructions. Multiple orders of a single item will be combined into 1 ziplock. We are not responsible for buyer germination success, seeds have been tested. Seed count is approximate, and packaged by weight. Seeds vary in size, weight is exact, and based upon empirical count, quantity is estimated. Liability of seller is limited to the cost of the item(s).
Zellajake Farm and Garden: "Seeds for all your planting needs" since 2013