---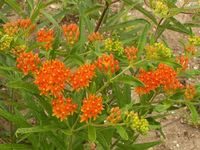 Always Free Shipping!!
Item specifics
Seller Notes: Germination test date and results will be on packet.
Sunlight: Full Sun
Watering: moderate watering, a little more than most perens.
Climate: Cold, Sub-tropical, Temperate Country/Region of Manufacture: United States
USDA Hardiness Zone (°F): 4- 9b
Brand: zellajake
Start your butterfly waystation, or add a new variety!
Brightly colored butterfly weed is a butterfly magnet, attracting many kinds of butterflies to its colorful blooms. Monarch butterfly larvae feed on its leaves but
seldom harm this native plant.
Germination:
Place your Milkweed seeds in a damp paper towel inside a ziplock bag. Don't forget to label the bag with the date and type of seed. Store the mixture in a refrigerator (33–38°F) for the recommended time on your seed packet. For Butterfly Milkweed (Asclepias tuberosa) 30 days of cold stratification. Try not to disturb your seeds at all during this stage and if the seeds start to sprout in the bag, plant immediately!
After 30-60 days, it's time to plant your Milkweed seeds. You can plant them in seed trays, peat pots, small pots or any other container that allows for water drainage. Once the soil is damp, place 1-2 seeds into each container. Sow seeds lightly on the top of the soil. You may press in gently but they need light to germinate so do not cover
It is slow to emerge in the spring, so mark its location to avoid accidental digging before new growth starts. If you don't want it to spread, deadhead faded blooms before seedpods mature. It is sometimes called milkweed because it produces a milky sap when cut.
all your planting needs" since 2013