---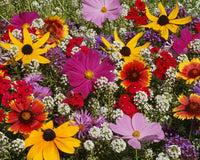 If you already have a butterfly garden, or are looking to start one, this the one stop list!
The comprehensive selection of butterfly attracting seed varieties!
Prairie milkweed and gazania splendens milkweed are currently unavailable, and will not be included in the "entire collection". The price of the "entire selection" has been adjusted to reflect the absence of these two packets.
We do not include growing instructions with our seeds. This keeps our prices low for the experienced grower.
There is an option to buy all the seed packets listed in this ad at the bottom of the selection page.
Please combine items in your shopping cart before purchasing, and thank you very much for looking!
Butterfly Flowers!
African Daisy 450 seeds
Alyssum Dwarf Pink 50 seeds
Alyssum Royal Carpet 2000
Alyssum Tall White 2000
Bergamot Wild 1000
Black Eyed Susan 1200
Black Eyed Susan Vine 40
Blanket Flower 200+
Butterfly Weed 100
Calendula Bon Bon Yel. 100
Calendula Fiesta Gitana 100
Camilia Balsam Mix 150
Cardinal Flower 100
Catnip 700
Chives 500
Coneflower Purple 200
Cosmos "Picotee" 280
Daisy Painted 400
Dill Bouquet 650
Fennel Florence 400
Flax Scarlet 250
Gazania Splendens 200 OOS
Hyssop Anise 600
Imperialis Mix Swt Sultan 100
Morning Glory Grandpa Ott 100
Morning Glory Scarlet O'hara 40
Lavender Vera 100
Lobelia Great Blue 1000
Lupine Russell 200
Milkweed Common 50
Milkweed Spider 10 (rare)
Milkweed Swamp 50
Milkweed Tall Green 25 (rare) OOS
Milkweed Whorled 50
Oregano Vulgare 500
Petunia Dwarf Mix 500
Phlox Mixed Colors 200
Poppy Red 1500
Salvia Scarlet Sage 200
Snapdragon Tetra Mix 500
Sunflower Teddy Bear 40
Sweet Pea Mammoth Mix 25
Verbena Moss 500
Yarrow White 500
Zinnia California Gnt Mix 600
Zinnia Lilliput Mix 200
Terms and conditions, READ THIS PLEASE: Orders over $14 from this ad will be shipped with tracking, Otherwise: Seeds will be shipped economy/standard or first class 2-10 day shipping (NO TRACKING and no planting instructions to keep seed costs to the buyer low), in a ziplock baggie. Our goal is to save you money on quality seeds. We are responsible sellers, and we make sure our buyers are well taken care of. Shipped within 2 business days after payment. We are a seller that caters to experienced gardeners, or those that are capable of looking up instructions independently (germination and plant care information is readily available online, but if you can't find germinating and care instructions, please feel free to message us). We do not include growing instructions. Multiple orders of a single item will be combined into 1 ziplock. We are not responsible for buyer germination success, seeds have been tested. Seed count is approximate, and packaged by weight. Seeds vary in size, weight is exact, and based upon empirical count, quantity is estimated. Liability of seller is limited to the cost of the item(s).