---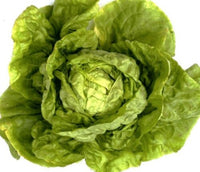 Buttercrunch Microgreen or Garden Seeds
Small compact tight heads with a crisp crunchy texture and a tender delicate flavour.
Please place all desired items in cart before purchasing. Thanks for shopping with us! J
Leaves tinged with a hint of yellow color is common. A very popular choice for children and adults alike with the tendency of never going bitter with a slow to bolt to see approach this is a traditional buttercruch loved by many.
Planting Times Early Spring to Early Autumn
How To Sow: Choose a well drained site in full sun. Sow these seeds in trays for subsequent transplanting or, after frosts, sow direct where to grow in a well prepared seedbed. Sow seeds 3/4" apart in groups 14" apart. Cover to a depth of 1/4". Keep trays or seedbed evenly moist during the germination period of 7-14 days.
Hints and Tips: Make successive sowings for a continuous supply.