---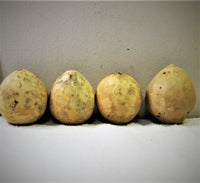 Bushel Gourd Heirloom Seeds
Seeds may be treated
You can grow and harvest hard-shelled bushel gourds in the fall.
These are fascinating vining, climbing plants to grow that adults
and kids love. The resulting gourds can be made into baskets, dishes or just paint or stain them for a conversation piece (and bragging rights – who grew the biggest gourd?).
Plant seeds 1/2" deep and keep well watered, but not saturated, until germination takes place. A heat or germination mat will assist with germination. Soil and ambient temps of 80 degrees or a little above greatly increase germination time and rate. We have successfully started gourds in regular pots with soil and transplanted them to the garden although instructions we have seen on the internet say that gourd seeds should be planted in individual containers, such as peat pots, since their roots will not like being disturbed during transplanting. You may want to try some each way to see what works for you. Seeds can also be sown directly into your garden, a trellis or other climbing apparatus is strongly recommended!