---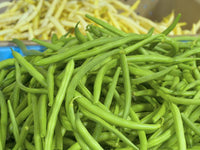 Blue Lake Bush beans, also called snap beans. THE Bush Bean!
SEEDS MAY BE TREATED WITH FUNGICIDE.
Germination test date and results will be on packet.
They're easy to plant, they don't need any time consuming staking, trellising, or poling because they grow on compact, sturdy plants, they grow well even in poor soil, and have ready-to-eat pods in only seven or eight weeks.
They used to be called "string" beans because of the fibrous string that ran the length of the pods, but now with improved varieties, they are really "stringless " beans!
The reason most gardeners prefer growing bush beans to pole beans is because although they take up more space, they require less work planting, staking, weeding and watering, and bush beans produce most of their crop all at once.
This makes harvesting very fast and convenient because by getting all your beans at once it's helpful for freezing or canning. Also, by staggering planting times by a few weeks you can have continuous bean production all summer long.
So, because green beans are the fourth most popular summer vegetable grown by home gardeners (tomatoes, cucumbers and sweet peppers beating them out) we are going to give you 10 tips that are guaranteed to bring you the best, tastiest, and most productive bush bean crop ever.
Plus, at the end of this article, we have a chart of bush beans giving you 22 of the most favorite varieties grown by professional and home gardeners alike.
Terms and conditions, READ THIS PLEASE: Orders over $14 from this ad will be shipped with tracking, Otherwise: Seeds will be shipped economy/standard or first class 2-10 day shipping (NO TRACKING and no planting instructions to keep seed costs to the buyer low), in a ziplock baggie. Our goal is to save you money on quality seeds. We are responsible sellers, and we make sure our buyers are well taken care of. Shipped within 2 business days after payment. We are a seller that caters to experienced gardeners. (germination and plant care information is readily available online, but if you can't find germinating and care instructions, please feel free to message us). Most of our listings include germination instructions, so we do not ship growing instructions. Multiple orders of a single item will be combined into 1 ziplock. We are not responsible for buyer germination success, seeds have been tested. Seed count is approximate, and packaged by weight. Seeds vary in size, weight is exact, and based upon empirical count, quantity is estimated. Liability of seller is limited to the cost of the item(s).
Zellajake Farm and Garden: "Seeds for all your planting needs" since 2013