---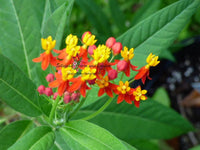 Always Free Shipping!
Item specifics
Germination test date and results will be on packet.
Sunlight: Full Sun
Watering: normal
Climate: Dry, Sub-tropical, Temperate
Country/Region of Manufacture: United States
Season of Interest: summer
Brand: zellajake
Blood flower is a tender evergreen perennial in the dogbane and milkweed family. It is native to South America, but has naturalized worldwide in many tropical and subtropical areas. It has a much longer flowering period than the perennial milkweeds that are winter hardy in zone 7 and colder. It typically grows as a subshrub to 2-3' tall on upright stems clad with pointed, opposite, lanceolate leaves (to 6" long). Leaves are medium green sometimes with white midribs. Showy flowers with five sepals and five lobes appear in rounded axillary clusters (cymes) in late spring to early summer. Flowers are red-orange with yellow hoods. Flowering continues throughout the summer to early autumn. Hummingbirds, butterflies and bees are attracted to the flowers. Monarch butterflies lay eggs on this plant and the resulting larvae (caterpillars) use the plant leaves as a food source. Flowers are followed by long, narrow seed pods (3-4" long) which split open when ripe releasing silky tailed seeds for dispersal by wind. Stems and leaves exude a milky sap when cut or bruised. Plants can be poisonous to livestock. Additional common names for this plant include tropical milkweed, scarlet milkweed, swallow wort, Indian root and matal. Asklepios is the Greek god of healing.
Terms and conditions, READ THIS PLEASE: Orders over $14 from this ad will be shipped with tracking, Otherwise: Seeds will be shipped economy/standard or first class 2-10 day shipping (NO TRACKING and no planting instructions to keep seed costs to the buyer low), in a ziplock baggie. Our goal is to save you money on quality seeds. We are responsible sellers, and we make sure our buyers are well taken care of. Shipped within 2 business days after payment. We are a seller that caters to experienced gardeners. (germination and plant care information is readily available online, but if you can't find germinating and care instructions, please feel free to message us). Most of our listings include germination instructions, so we do not ship growing instructions. Multiple orders of a single item will be combined into 1 ziplock. We are not responsible for buyer germination success, seeds have been tested. Seed count is approximate, and packaged by weight. Seeds vary in size, weight is exact, and based upon empirical count, quantity is estimated. Liability of seller is limited to the cost of the item(s).
Zellajake Farm and Garden: "Seeds for all your planting needs" since 2013