---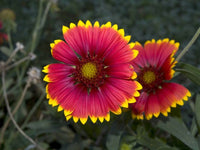 Buy 2 orders gaillardia aristata seeds get 1 order gaillardia aristata seeds free
450 seeds total with double order will be shipped in one packet
If you're looking for a perennial with a long season of bloom, blanket flower is a great choice. The daisy-like flowers are produced from early summer to early fall in shades of orange, red and yellow, adding sizzle to the garden and attracting nectar-seeking butterflies. Produced above a clump of hairy, narrow, gray-green leaves, the blossoms of perennial blanket flower have petals that may be solid colored shades of yellow, wine red , orange or peach, or may be banded in combinations of red or orange with yellow. The petals of some are frilled, while others have a unique, tubular shape. Sizes range from 10-12 inch high dwarfs to selections as tall as 24-30 inches. All are easy care plants with few insect or disease problems and most are hardy in zones 3-9. Start seeds early indoors 4-6 weeks before the last spring frost, transplanting to the garden when the weather has warmed. In warm-winter areas, sow seeds directly in late fall or very early spring. Varieties are available with single, double and semi-double flowers.
Germination test date and results will be on packet.
Full sun and very well-drained soil are musts for blanket flowers to thrive. They prefer loose, sandy soil that isn't overly fertile with a pH near neutral or slightly alkaline. Established plants are quite drought tolerant.
Deadhead plants regularly to encourage more flowering. Blanket flowers are often relatively short-lived. Cutting back clumps to 6 inches in late summer often increases their chances of winter survival. You can also keep your plants vigorous by dividing them every 2-3 years in spring or early fall. Water newly set out or divided plants regularly until they become established.
Terms and conditions, READ THIS PLEASE: Orders over $14 from this ad will be shipped with tracking, Otherwise: Seeds will be shipped economy/standard or first class 2-10 day shipping (NO TRACKING and no planting instructions to keep seed costs to the buyer low), in a ziplock baggie. Our goal is to save you money on quality seeds. We are responsible sellers, and we make sure our buyers are well taken care of. Shipped within 2 business days after payment. We are a seller that caters to experienced gardeners. (germination and plant care information is readily available online, but if you can't find germinating and care instructions, please feel free to message us). Most of our listings include germination instructions, so we do not ship growing instructions. Multiple orders of a single item will be combined into 1 ziplock. We are not responsible for buyer germination success, seeds have been tested. Seed count is approximate, and packaged by weight. Seeds vary in size, weight is exact, and based upon empirical count, quantity is estimated. Liability of seller is limited to the cost of the item(s).
Zellajake Farm and Garden: "Seeds for all your planting needs" since 2013