---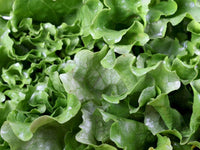 Always Free Shipping!!
Item specifics
Seller Notes: Germination test date and results will be on packet.
Sunlight: Full Sun USDA Hardiness Zone (°F): 3-10
Climate: Cold, Sub-tropical, Temperate, Tropical Watering: regular-frequent
Soil Type: Loam, Peat, Sand
Country/Region of Manufacture: United States
Black Seeded Simpson Leaf Lettuce seeds!
Black Seeded Simpson lettuce is one of the most popular loose leaf lettuces in home gardens. Why!?! Simply because it is fast growing, and has a light, sweet taste. Plant some today, and you can be harvesting this tasty lettuce in less than six weeks.
Days to Maturity:
Here's good news- - your Black Seeded Simpson lettuce is ready to harvest in as little as 45 days or less.
How to Grow Black Seeded Simpson Lettuce:
These lettuce seeds are very fine. You can plant these seeds in a row, or broadcast them over an area. When planting in rows, thin to 6" apart, in rows 12-18" apart. Cover the seeds with a very fine layer of loose soil or starting mixture. Water lightly after planting.
Tip: Some people sprinkle the seeds on top of a fine soil, and just water them in.
Black Seeded Simpson is not a candidate for transplanting. Sow seeds directly in your garden. They also grow well in an outdoor container on your patio or deck. When it comes time to harvest, just step outside your door and snip as many leaves as you need.
Black Seeded Simpson lettuce likes cool weather and lots of moisture. Grow lettuce plants in full sun, in rich, well drained soil. Liquid fertilizer works well. Weed once or twice early n their growth cycle. Without competing with weeds, the the plants will grow better, and it makes harvesting easier.
Plant successive crops for a constant supply Black Seeded Simpson lettuce. Plant small sections in your garden every couple of weeks.
Harvesting:
Days to harvest: 45
Pick Black Seeded Simpson lettuce as soon as it is big enough to use. We recommend harvesting with a clean, sharp scissors. The plant will re-grow. But, after a while, it's good to have a vigorous new patch to harvest from.
Terms and conditions, READ THIS PLEASE: Orders over $14 from this ad will be shipped with tracking, Otherwise: Seeds will be shipped economy/standard or first class 2-10 day shipping (NO TRACKING and no planting instructions to keep seed costs to the buyer low), in a ziplock baggie. Our goal is to save you money on quality seeds. We are responsible sellers, and we make sure our buyers are well taken care of. Shipped within 2 business days after payment. We are a seller that caters to experienced gardeners. (germination and plant care information is readily available online, but if you can't find germinating and care instructions, please feel free to message us). Most of our listings include germination instructions, so we do not ship growing instructions. Multiple orders of a single item will be combined into 1 ziplock. We are not responsible for buyer germination success, seeds have been tested. Seed count is approximate, and packaged by weight. Seeds vary in size, weight is exact, and based upon empirical count, quantity is estimated. Liability of seller is limited to the cost of the item(s).
Zellajake Farm and Garden: "Seeds for all your planting needs" since 2013