---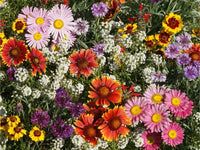 Always Free Shipping!!
Three perennials and 11 annuals that will provide you with stunning bouquets, and bring the birds and butterflies into your garden!
Seed coverage: 160 seeds per square foot
Common Name
Botanical Name
Annual / Perennial
Yarrow
Achillea millefolium
Perennial
Calendula
Calendula officinalis
Annual
Bachelor Button/Cornflower
Centaurea cyanus
Annual
Godetia
Clarkia amoena
Annual
Lance Leaf Coreopsis
Coreopsis lanceolata
Perennial
Plains Coreopsis
Coreopsis tinctoria
Annual
Cosmos
Cosmos bipinnatus
Annual
California Poppy
Eschscholzia californica
Annual
Indian Blanket
Gaillardia pulchella
Annual
Birds Eyes
Gilia tricolor
Annual
Baby's Breath
Gypsophila elegans
Annual
Perennial Lupine
Lupinus perennis
Perennial
Mexican Hat
Ratibida columnaris
Annual
Black Eyed Susan
Rudbeckia hirta
Annual
Sunflower
Annual
Germination test date and results will be on packet.
Terms and conditions, READ THIS PLEASE: Orders over $14 from this ad will be shipped with tracking, Otherwise: Seeds will be shipped economy/standard or first class 2-10 day shipping (NO TRACKING and no planting instructions to keep seed costs to the buyer low), in a ziplock baggie. Our goal is to save you money on quality seeds. We are responsible sellers, and we make sure our buyers are well taken care of. Shipped within 2 business days after payment. We are a seller that caters to experienced gardeners. (germination and plant care information is readily available online, but if you can't find germinating and care instructions, please feel free to message us). Most of our listings include germination instructions, so we do not ship growing instructions. Multiple orders of a single item will be combined into 1 ziplock. We are not responsible for buyer germination success, seeds have been tested. Seed count is approximate, and packaged by weight. Seeds vary in size, weight is exact, and based upon empirical count, quantity is estimated. Liability of seller is limited to the cost of the item(s).
Zellajake Farm and Garden: "Seeds for all your planting needs" since 2013