---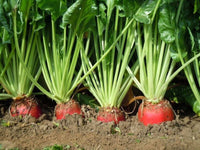 Monstrous Mammoth Red Beet for table or fodder!
Germination test date and results will be on packet.
Family, genus, and species: Chenopodiaceae Beta vulgaris Synonyms. mangel, mangel-wurzel, wurzel, mangold, field beet, cattle beet, fodder beet.
The fodder beet is native to the temperate zone of Europe, is thought to have originated from a cross between the red and white garden beet, and was likely first cultivated in Germany (Wilson, 1859). Fodder beets were cultivated throughout Europe from at least the mid-1500s primarily as livestock fodder but were also eaten by people, especially during food shortages.
Red Mammoth Mangel Beets produce an massive crop of edible beet leaves and a large root up to 20# or more in size! These beets prefer deeply tilled, free draining, sandy soil to achieve full size. Simply allow your animals to graze on the tops, cut the tops for feeding or harvest the root.
Beet seeds can be planted in early spring or midsummer. Soak seeds overt in damp towel before planting for excellent germination. Plant beet seeds 1" apart, 1/2" deep, and thin weakest seedlings to desired spacing. Keep soil evenly moist to prevent beet roots from getting woody. For longer harvest, stagger beet plantings every 2-3 weeks.
Heirloom seeds are hardy but always take care with your garden seeds to give them the appropriate amount of moisture - not letting the vegetable seeds dry out prematurely or overwatering and possibly having them rot.
Terms and conditions, READ THIS PLEASE: Orders over $14 from this ad will be shipped with tracking, Otherwise: Seeds will be shipped economy/standard or first class 2-10 day shipping (NO TRACKING and no planting instructions to keep seed costs to the buyer low), in a ziplock baggie. Our goal is to save you money on quality seeds. We are responsible sellers, and we make sure our buyers are well taken care of. Shipped within 2 business days after payment. We are a seller that caters to experienced gardeners. (germination and plant care information is readily available online, but if you can't find germinating and care instructions, please feel free to message us). Most of our listings include germination instructions, so we do not ship growing instructions. Multiple orders of a single item will be combined into 1 ziplock. We are not responsible for buyer germination success, seeds have been tested. Seed count is approximate, and packaged by weight. Seeds vary in size, weight is exact, and based upon empirical count, quantity is estimated. Liability of seller is limited to the cost of the item(s).
Zellajake Farm and Garden: "Seeds for all your planting needs" since 2013