---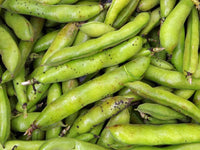 Always Free Shipping!
Item specifics
Seller Notes: Germination test date and results will be on packet. Seeds may be treated with fungicide. If you would like to know, please contact us."
Sunlight: Full Sun
Country/Region of Manufacture: United States
Climate: Temperate
Brand: zellajake
FAVA BEANS!
Very productive, huge beans!
VERY COLD HARDY, Hardiness Zones 3-11. EASY to grow.
First class shipment, with tracking. Seeds may be treated with fungicide, contact us for info.
General
Broad beans are a member of the pea family, and are one of the oldest known cultivated plants. Broad beans are also known many other names: fava beans, Windsor beans, faba bean, and horse beans.
Latin
Vicia faba
Family: Fabaceae
Difficulty
Easy
We Recommend: Broad Windsor (BN150). There's a reason we carry just the one variety! Broad Windsor has been a customer favourite for decades. It's very reliable and utterly cold hardy. Big tasty beans!
Season & Zone
Season: Cool season
Exposure: Full sun
Zone: Hardy from Zone 3 to 11
Timing
Direct sow October/November in mild winter areas. Direct sow February to May in other areas. Tall, soft plants won't withstand winter well. Optimal soil temperature for germination: 10-21°C (50-70°F).
Starting
Sow seed 5cm (1-2") deep, 15cm (6") apart in double rows 23cm (9") apart. Germination takes 10-14 days, depending on conditions.
Growing
Ideal pH: 6.0-6.5. Enrich the soil with compost prior to planting. Keep overwintered plants weeded. Provide stakes or strings between rows to stop plants from falling over.
Harvest
Pick when the pods appear plump and begin to droop from the weight of the seeds. Shell (like peas) and cook or use in soup. For dried beans, wait until the pods start to shrivel. Caution: some people are highly allergic to broad beans.
Seed Info
Usual seed life: 2-3 years. Per 100' row: 450 seeds.
Companion Planting
Excellent for fixing nitrogen in the soil. Avoid planting broad beans near onions.
Terms and conditions, READ THIS PLEASE: Orders over $14 from this ad will be shipped with tracking, Otherwise: Seeds will be shipped economy/standard or first class 2-10 day shipping (NO TRACKING and no planting instructions to keep seed costs to the buyer low), in a ziplock baggie. Our goal is to save you money on quality seeds. We are responsible sellers, and we make sure our buyers are well taken care of. Shipped within 2 business days after payment. We are a seller that caters to experienced gardeners. (germination and plant care information is readily available online, but if you can't find germinating and care instructions, please feel free to message us). Most of our listings include germination instructions, so we do not ship growing instructions. Multiple orders of a single item will be combined into 1 ziplock. We are not responsible for buyer germination success, seeds have been tested. Seed count is approximate, and packaged by weight. Seeds vary in size, weight is exact, and based upon empirical count, quantity is estimated. Liability of seller is limited to the cost of the item(s).
Zellajake Farm and Garden: "Seeds for all your planting needs" since 2013