---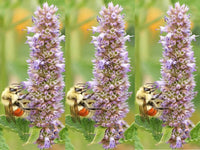 Beautiful licorice scented Anise Hyssop seeds, or Agastache Foeniculum
Simply buy two orders and we will ship 3 orders in one packet.
Use this member of the mint family for culinary purposes, as the leaves make an flavorful tea and the flowers are also edible. The beautiful flowers and fragrant foliage seem to be of little interest to deer, but bees, hummingbirds, and butterflies are attracted. The plant makes an excellent addition to herb gardens, It self-seeds and frequently blooms the first year. New seedlings are hardy and can be transplanted easily. Aka Lavender Hyssop or Blue Giant Hyssop.
Germination:
To break dormancy, seeds need cold moist stratification. Mix the seed with moist sand and store in the refrigerator for 30 days before planting. To accomplish this naturally, direct sow unstratified seed on the surface of the soil in the fall for germination in the spring. To start the seed indoors, sow the stratified seed on the surface of the soil in a flat; keep the soil temperature between 70-75 degrees F with consistent moisture until germination. After the last spring frost, transplant the seedlings 15-18" apart in full sun and sandy or rocky soil.
Agastache foeniculum is a PERENNIAL growing to 0.9 m (3ft) by 0.4 m (1ft 4in).
It is hardy to zone 8 and is not frost tender. It is in flower in July, and the seeds ripen in August. The flowers are hermaphrodite (have both male and female organs) and are pollinated by Bees.The plant is self-fertile.
It is noted for attracting wildlife.
Germination test date and results will be on packet.
Suitable for: light (sandy) and medium (loamy) soils and prefers well-drained soil. Suitable pH: acid, neutral and basic (alkaline) soils. It cannot grow in the shade. It prefers dry or moist soil.
Leaves can be used as tea, and leaves can be used in salads.
Terms and conditions, READ THIS PLEASE: Orders over $14 from this ad will be shipped with tracking, Otherwise: Seeds will be shipped economy/standard or first class 2-10 day shipping (NO TRACKING and no planting instructions to keep seed costs to the buyer low), in a ziplock baggie. Our goal is to save you money on quality seeds. We are responsible sellers, and we make sure our buyers are well taken care of. Shipped within 2 business days after payment. We are a seller that caters to experienced gardeners. (germination and plant care information is readily available online, but if you can't find germinating and care instructions, please feel free to message us). Most of our listings include germination instructions, so we do not ship growing instructions. Multiple orders of a single item will be combined into 1 ziplock. We are not responsible for buyer germination success, seeds have been tested. Seed count is approximate, and packaged by weight. Seeds vary in size, weight is exact, and based upon empirical count, quantity is estimated. Liability of seller is limited to the cost of the item(s).
Zellajake Farm and Garden: "Seeds for all your planting needs" since 2013