---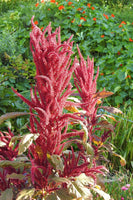 Always Free Shipping!!
Item specifics
Seller Notes: Germination test date and results will be on packet.
Sunlight: Full Sun USDA Hardiness Zone (°F): 4-10
Climate: Sub-tropical, Temperate
Country/Region of Manufacture: United States
Soil Type: Peat
Brand: zellajake
Red Garnet Amaranth Sprouts have a more subtle, earthy flavor than some, more pungent, microgreens. These greens are packed with vitamin K1, as a matter of fact, Amaranth microgreens have more of this vitamin than any other microgreen.
To plant amaranth seeds, place about 1 inch of potting soil on the bottom of the pot or container, and flatten it out (without mashing it) with your hand. Then, sprinkle a thin layer of seeds over the soil, and press them gently in. Cover the seeds with a light layer of top soil, and spray the surface lightly with a plant mister. Instead of misting, you can cover the seeds with a layer of plastic wrap, which you leave on throughout germination.
Mist the soil twice a day lightly until the sprouts appear, which should be in about a week. If you are using plastic wrap, be sure to remove it after the seeds have sprouted. Once the seeds are up, keep misting the plants twice a day.
To reap the health benefits of microgreens, eat them immediately after harvest. Microgreens, like most other superfoods that are consumed fresh, begin to lose their nutritional value rapidly after harvest. Consider growing your own microgreens at home, as this will allow you to decide exactly when you harvest your crop.
Turns out microgreens are not just a plain good-for-you food or a healthy garnish on salads and soups. Scientific research now proves that these tiny seedlings harvested and eaten when they are just a few inches tall are a real superfood packed with antioxidants and other health-promoting nutrients. HealWithFood.org combed through recently published scientific research – as well as some older studies – to uncover nutrition facts for these young edible seedlings harvested at the cotyledon leaf stage, and is happy to provide you with this overview of the nutritional value and health benefits of microgreens.
Microgreen cotyledon leaves have considerably higher nutritional densities than their mature counterparts (cotyledon leaves refer to the embryonic first leaves of a seedling). This large-scale microgreen study was published in the August 2012 issue of the Journal of Agricultural and Food Chemistry.
Even microgreens that have lowest levels of vitamin C contain a whopping 20 milligrams of vitamin C per 100 grams – that's almost twice the amount of vitamin C found in tomatoes! Red cabbage microgreens had the highest levels of vitamin C among the tested varieties, with a 100-gram portion providing 147 milligrams – or 245% of the daily value – of this vital nutrient. For comparison, an equal-sized serving of mature raw red cabbage contains 57 milligrams of vitamin C according to data provided by the U.S. Department of Agriculture.
Carotenoids, such as beta-carotene, are thought to reduce the risk of disease, particularly certain types of cancer and eye disease. Carrots are famous for being rich in beta-carotene, but turns out that many microgreens are also a good source of this important nutrient. In fact, some microgreens appear to contain even more beta-carotene than carrots: 12 milligrams per 100 grams compared with 8 milligrams in boiled carrots
Back in 1967, a team of scientists from Yale University showed that young pea seedlings grown in light contain significant levels of tocopherol (vitamin E). Similarly, the researchers responsible for the 2012 microgreen study found substantial amounts of tocopherols in the tested greens. The amount of alpha-tocopherol and gamma-tocopherol combined ranged from 7.9 to 126.8 milligrams per 100 grams, with green daikon radish microgreens scoring the highest value in this analysis. For adults, the recommended daily allowance for vitamin E is 15 milligrams of alpha-tocopherol, meaning that eating just a small amount of daikon radish microgreens would cover your daily requirement for this important antioxidant vitamin.
Terms and conditions, READ THIS PLEASE: Orders over $14 from this ad will be shipped with tracking, Otherwise: Seeds will be shipped economy/standard or first class 2-10 day shipping (NO TRACKING and no planting instructions to keep seed costs to the buyer low), in a ziplock baggie. Our goal is to save you money on quality seeds. We are responsible sellers, and we make sure our buyers are well taken care of. Shipped within 2 business days after payment. We are a seller that caters to experienced gardeners. (germination and plant care information is readily available online, but if you can't find germinating and care instructions, please feel free to message us). Most of our listings include germination instructions, so we do not ship growing instructions. Multiple orders of a single item will be combined into 1 ziplock. We are not responsible for buyer germination success, seeds have been tested. Seed count is approximate, and packaged by weight. Seeds vary in size, weight is exact, and based upon empirical count, quantity is estimated. Liability of seller is limited to the cost of the item(s).
Zellajake Farm and Garden: "Seeds for all your planting needs" since 2013