---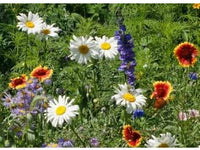 Always Free Shipping!!
Cultivate the area, spread these seeds evenly, cover with 1/8" of gritty soil, water til they germinate, and then watch them grow!
A perennial wildfower mix like this is very hard to come by. The mix grows in all zones of the united states!
Included in this mixture:
Common Name
Germination test date and results will be on packet.
Botanical Name
Annual / Perennial
Siberian Wallflower
Cheiranthus allioni
Perennial/Biennial
Shasta Daisy
Chrysanthemum leucanthemum
Perennial
Lance Leaf Coreopsis
Coreposis lanceolata
Perennial
Sweet William
Dianthus barbutus
Perennial
Foxglove
Digitalis purpurea
Perennial/Biennial
Purple Coneflower
Echinacea purpurea
Perennial
Blanketflower
Gaillardia aristata
Perennial
Blue Flax
Linum lewisii
Perennial
Perennial Lupine
Lupinus perennis
Perennial
Mexican Hat
Ratibida columnaris
Perennial/Biennial
Gloriosa Daisy
Rudbeckia gloriosa
Perennial/Biennial
Black Eyed Susan
Rudbeckia hirta
Perennial/Biennial
Candytuft
Iberis umbellata
Perennial
Gayfeather/Blazing Star
Liatris spicata
Perennial
Maltese Cross
Lychnis chalcedonica
Perennial
Terms and conditions, READ THIS PLEASE: Orders over $14 from this ad will be shipped with tracking, Otherwise: Seeds will be shipped economy/standard or first class 2-10 day shipping (NO TRACKING and no planting instructions to keep seed costs to the buyer low), in a ziplock baggie. Our goal is to save you money on quality seeds. We are responsible sellers, and we make sure our buyers are well taken care of. Shipped within 2 business days after payment. We are a seller that caters to experienced gardeners. (germination and plant care information is readily available online, but if you can't find germinating and care instructions, please feel free to message us). Most of our listings include germination instructions, so we do not ship growing instructions. Multiple orders of a single item will be combined into 1 ziplock. We are not responsible for buyer germination success, seeds have been tested. Seed count is approximate, and packaged by weight. Seeds vary in size, weight is exact, and based upon empirical count, quantity is estimated. Liability of seller is limited to the cost of the item(s).
Zellajake Farm and Garden: "Seeds for all your planting needs" since 2013