---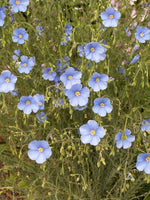 Always Free Shipping!!
Germination test date and results will be on packet.
A stunning blue mix of annual and perennial wildflowers!
To grow, cultivate the area to be planted, cover seeds with a 3/16" of fine grit, and keep watered. Do not plant wildflower mixes in the summer. Wildflower mixes should be planted in spring or late fall for the following season.
Seed counts are approximate, but we strive to err in favor of the buyer by weighing over the estimated order amount.
Common Name
Botanical Name
Annual / Perennial
Annual Blue Flax
Linum usitatissumum
Annual
Wild Perennial Lupine
Lupinus perennis
Perennial
Baby Blue Eyes
Nemophila menziesii
Annual
Chicory
Cichorium intybus
Biennial
Cornflower/Bachelor Button "Blue Boy"
Centaurea cyanus
Annual
Blue Columbine
Aquilegia caerulea
Perennial
Chinese Forget-Me-Not
Cynoglossum amabile
Annual
Globe Gilia
Gilia capitata
Annual
California Bluebell
Phacelia campanularia
Annual
Terms and conditions, READ THIS PLEASE: Orders over $14 from this ad will be shipped with tracking, Otherwise: Seeds will be shipped economy/standard or first class 2-10 day shipping (NO TRACKING and no planting instructions to keep seed costs to the buyer low), in a ziplock baggie. Our goal is to save you money on quality seeds. We are responsible sellers, and we make sure our buyers are well taken care of. Shipped within 2 business days after payment. We are a seller that caters to experienced gardeners. (germination and plant care information is readily available online, but if you can't find germinating and care instructions, please feel free to message us). Most of our listings include germination instructions, so we do not ship growing instructions. Multiple orders of a single item will be combined into 1 ziplock. We are not responsible for buyer germination success, seeds have been tested. Seed count is approximate, and packaged by weight. Seeds vary in size, weight is exact, and based upon empirical count, quantity is estimated. Liability of seller is limited to the cost of the item(s).
Zellajake Farm and Garden: "Seeds for all your planting needs" since 2013