---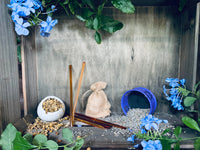 Tea kit includes: 1/2 oz of lavender flowers, 1/2 oz of chamomile flowers, 1/2 oz of catnip, one burlap sack, and six honey sticks.
Honey stick flavors include: Blackberry, Caramel, Clover, Cinnamon, Sour Cherry.
Lavender, chamomile, and catnip promote relaxation and treat conditions such as anxiety, insomnia, stress and depression. Catnip may sound strange, but it assists in calming the mind and stomach!