---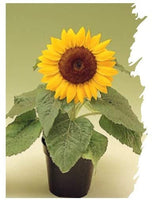 Sunflower Dwarf Sunspot Seeds
'Sunspot' is a dwarf sunflower, growing 3 to 5 feet tall. It has characteristic single flowers with yellow petals and a dark center. Flowers are comparatively large to the overall plant size.

Seed depth 1/2", spaced at 3" and thinned to 12" inches apart. Germination occurs within 1-2 weeks. Make sure your plants are sheltered from the wind, either on the side of a fence or structure, to prevent your flowers from toppling in strong gusts.