---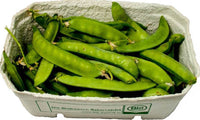 Always Free Shipping!
Item specifics
Seller Notes:Germination test date and results will be on packet. Seeds may be treated with fungicide."
Climate: Cold, Sub-tropical, Temperate
Brand: zellajake
Country/Region of Manufacture: United States
Sugar Snap Peas Seeds, supersweet!
Seeds may be treated with fungicide.
All orders from this ad have tracking! Arrives within 8 business days.
Sugar snap peas have been cultivated for 8000 years, that's heirloom!
Fun facts
▪ Edible-pod peas have
fibers that go in only one
direction, allowing them
to be easily chewed
▪ Only 5% of peas grown
are sold fresh
▪ Thomas Jefferson
planted more than 30
varieties of peas in his
garden
▪ Half of the sugar
content of peas will turn
to starch within 6 hours if
kept at room temperature
after harvest
How to plant:
Propagate by seed
Germination temperature: 40 F to 85 F - Optimum around 75 F.
Days to emergence: 9 to 13 - 9 days when soil is 60 F. 13 days at 50 F. May take as long as 4 to 5 weeks at 40 F.
Seed can be saved 3 years.
Maintenance and care:
Sow seed in spring as soon as you can work the soil - as early as late March or early April depending on how quickly the soil warms and dries. Peas planted in cold soil (40 F) are slow to germinate. Later plantings made when the soil is warmer (60 F or more) often catch up quickly with earlier plantings. Use raised beds if your soil is slow to drain.
Make additional plantings through early- to mid- May, or plant varieties with different maturity dates to increase the harvest period.
Plant seeds 1 to 2 inches deep, 1 to 4 inches apart in rows 18 inches apart. Or sow about 1 inch apart in a 3-inch-wide band (about 25 seeds per foot). Shallow planting is best when soils are cool and wet. Plant deeper if soil is dry. A quick way to seed is to make a furrow or trench with a hoe, place seed in the furrow, cover and firm. Do not thin.
Erect trellis for tall-growing, vining types at planting using chicken wire, brush or other suitable trellis material. If trellising, increase row spacing to 4 to 6 feet.
Keep soil moist, but avoid heavy watering during flowering, which can interfere with pollination.
Intercrop peas with fast-growing cool-season crops such as spinach or radishes. After final harvest, follow with late squash plantings or fall-harvested cool-season crops such as broccoli, leeks or potatoes.
Sow fall crops about 8 to 10 weeks before first frost date. Fall crops can be disappointing if hot weather persists. Powdery-mildew-resistant varieties are best for fall crops.
Do not use high-nitrogen fertilizers. Too much nitrogen will result in lush foliage but poor flowering and fruiting. Inoculation with rhizobia bacteria may be beneficial if peas have not been grown in the past.
Do not plant peas in the same place more than once in every 4 years. Avoid planting where in places where peas have suffered before from root rot.
Seeds may be treated with fungicide.
Terms and conditions, READ THIS PLEASE: Orders over $14 from this ad will be shipped with tracking, Otherwise: Seeds will be shipped economy/standard or first class 2-10 day shipping (NO TRACKING and no planting instructions to keep seed costs to the buyer low), in a ziplock baggie. Our goal is to save you money on quality seeds. We are responsible sellers, and we make sure our buyers are well taken care of. Shipped within 2 business days after payment. We are a seller that caters to experienced gardeners. (germination and plant care information is readily available online, but if you can't find germinating and care instructions, please feel free to message us). Most of our listings include germination instructions, so we do not ship growing instructions. Multiple orders of a single item will be combined into 1 ziplock. We are not responsible for buyer germination success, seeds have been tested. Seed count is approximate, and packaged by weight. Seeds vary in size, weight is exact, and based upon empirical count, quantity is estimated. Liability of seller is limited to the cost of the item(s).
Zellajake Farm and Garden: "Seeds for all your planting needs" since 2013