---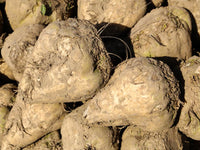 Always Free Shipping!!
Item specifics
Seller Notes: "Seeds may be treated with fungicide.Germination test date and results will be on packet.
Country/Region of Manufacture: United States Climate: Cold, Temperate
Brand: zellajake
Sugar is a carbohydrate that occurs naturally in fruits and vegetables. Of all known plants, sugar is most highly concentrated in sugar beets and sugar cane. The sucrose (sugar) from sugar beets and sugar cane is identical, and the same as the sucrose found in fruits and vegetables. These seeds are pelleted for easy mass distribution.
For the longest period of time, Europe had no access to sugar. The only food ingredient that enabled sweetening of food was natural made honey, and because of that Europe has to wait all up to 13th and 14th century until conflict with the middle east during Crusades brought them closer to the riches of the Arab world and India. Sugar created from sugarcane sucrose was very expensive and hard to make, and because of high demand, European traders and governments tried to find the way to make it themselves in large quantities. Because of that need, New World became haven for countless immigrants who immediately started working on producing sugar, importing African slaves to do hard field work, and building several thousand sugar mills that signified dawn of the industrial revolution in Europe and North America.
Sugar beets are similar to the familiar red-rooted garden beet, but are much larger, reaching about 2 to 4 pounds when mature. They tend to have shiny, white
roots, and as you might guess, a high sugar content, containing 13 to 22 percent sucrose.
Terms and conditions, READ THIS PLEASE: Orders over $14 from this ad will be shipped with tracking, Otherwise: Seeds will be shipped economy/standard or first class 2-10 day shipping (NO TRACKING and no planting instructions to keep seed costs to the buyer low), in a ziplock baggie. Our goal is to save you money on quality seeds. We are responsible sellers, and we make sure our buyers are well taken care of. Shipped within 2 business days after payment. We are a seller that caters to experienced gardeners. (germination and plant care information is readily available online, but if you can't find germinating and care instructions, please feel free to message us). Most of our listings include germination instructions, so we do not ship growing instructions. Multiple orders of a single item will be combined into 1 ziplock. We are not responsible for buyer germination success, seeds have been tested. Seed count is approximate, and packaged by weight. Seeds vary in size, weight is exact, and based upon empirical count, quantity is estimated. Liability of seller is limited to the cost of the item(s).
Zellajake Farm and Garden: "Seeds for all your planting needs" since 2013